Amit Shah scolds Giriraj for his 'white skin' remark, Nigerian envoy demands apology
New Delhi: BJP President Amit Shah is reported to have scolded union minister Giriraj Singh for his sexist and racist remarks against Congress President.Shah reportedly spoke to Giriraj over phone and warned him against making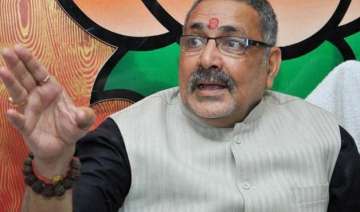 India TV News Desk
April 01, 2015 22:48 IST
New Delhi: BJP President Amit Shah is reported to have scolded union minister Giriraj Singh for his sexist and racist remarks against Congress President.
Shah reportedly spoke to Giriraj over phone and warned him against making such statements in future.
Also Read: Giriraj Singh expresses regret over his 'white-skin' jibe on Sonia Gandhi
Meanwhile, the Nigerian High Commission today took strong objection to the racist remarks by Union minister Giriraj Singh in which he referred to a Nigerian woman and demanded an apology for the "unacceptable" comments.
Acting High Commissioner of Nigeria OB Okongor said a complaint may be filed with the External Affairs Ministry as Singh's comments were in "very bad taste".
"We expect the minister to withdraw the comments and apologise to the Nigerian people. We will notify our government about the issue," he said.
Singh kicked up a major row with his remarks as he wondered whether Congress would have accepted Sonia Gandhi's leadership if she was not white-skinned. "Had Rajiv Gandhi married a Nigerian woman and if she was not a white-skinned woman, would the Congress have then accepted her leadership?" the minister of state for micro, small and medium enterprises told journalists in Bihar's Hajipur yesterday.
Also Read: Congress accepted Sonia Gandhi as leader because of her 'white-skin', says Giriraj Singh
His comments drew condemnation from political parties and various women leaders.
The Nigerian envoy said the High Commission would "notify" the Nigerian government about the minister's comments. Asked whether the High Commission would file a formal complaint with the Ministry of External Affairs, he said, "We need to file a complaint."
Union minister Giriraj Singh has expressed regret over his racist comments against Congress President Sonia Gandhi.
"During off record sessions, many things are said. If Rahul Gandhi or Sonia Gandhi are hurt by my statements, I regret what I said," said Giriraj Singh.
"People do talk off the record among each other, it's a different thing how it is presented," he added.
Singh courted another controversy today by making a shocking remark about colour of Congress president Sonia Gandhi's skin.
He said that it was the colour of Sonia's skin that made her the Congress chief.
"If Rajiv Gandhi had married a Nigerian and if she wasn't white skin, would Congress accept her as a leader?" the BJP MP from Bihar said.
Giriraj Singh made these remarks while addressing a press conference in Hajipur in Bihar.
This is not the first time that Giriraj Singh has courted controversy. Earlier, he had asked all those opposing Prime Minister Narendra Modi to move to Pakistan.
Singh was included in Modi's Cabinet last year as a Minister of State for Micro, Small and Medium Enterprises.
Singh  also took a swipe on Rahul Gandhi's absence from Parliament and compared him with the missing Malaysian Airlines flight.
"Imagine a situation, if Congress was in power instead of us and had Rahul been the Prime Minister, and if for some reason, the PM had disappeared for more than 47 days," Singh said.
"Absence of Congress Vice President is similar to that of the missing Malaysian airliner that still has not been located. The same way the Congress leader was not present in the budget session. No one in Congress is ready to speak. This is unfortunate for the Congress and a joke for the country," he said.
Reacting sharply to Singh's remarks, senior Congress leader Digvijay Singh has demanded his immediate resignation.
Congress leader and former minister of state for home RPN Singh demanded that Prime Minister Narendra Modi should publicly apologise for Giriraj Singh's racist remark.
"I strongly condemn the derogatory remarks used by a Union Minister against Smt. Sonia Gandhi. It is not just derogatory to Sonia Gandhi, but to the all women of this country. I think it has become a habit with BJP ministers to make these kinds of outlandish remarks. It is time for the Prime Minister who keeps saying that these kinds of remarks should not be made, but every week we had a remark made by some MP or some minister in the government. We seek apology from the Prime Minister," he said.
Reacting to Singh's comment, CPI(M) leader Brinda Karat said, " This is a very derogatory remark and in full contempt for working women, this is racist. In our country there is no code of conduct which can control such remarks, it's unfortunate."