Ansari agrees to review 'anarchist' remark
New Delhi: Rajya Sabha Chairperson Hamid Ansari Wednesday agreed to review his "federation of anarchists" remarks relating to the house following requests by various members of the house."I will ask the Rajya Sabha secretariat to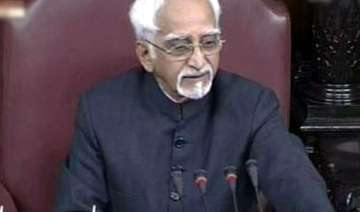 IANS
August 14, 2013 12:47 IST
New Delhi
: Rajya Sabha Chairperson Hamid Ansari Wednesday agreed to review his "federation of anarchists" remarks relating to the house following requests by various members of the house.
"I will ask the Rajya Sabha secretariat to review the remarks in light of the records they have," Ansari told the house.
Ansari said the word objected to is anarchist and it is not an allegation or an attribute to the house but a question posed to the house.
"If a question is posed it cannot be an allegation," said Ansari.
He also called for reviewing procedures of the house.
"I would like to convene as early as possible a meeting of the leaders so that we have frank practical discussion about the rules needed to be amended, if they need to be amended," he added.
As soon as the house met, various members of house raised the issue appealing to Ansari to expunge it.
"There was innuendo in the question that you posed (federation of anarchists). Please don't allow the word to be part of records," said Leader of Opposition in the Rajya Sabha Arun Jaitley.
Before adjourning the house Tuesday, Ansari had said: "Every single rule in the rule book, every single etiquette is being violated ... If the honourable members wish the house to become a federation of anarchists, then it is a different matter."