AP CM launches smart village initiative; goes on 'padayatra'
Eluru (AP): Andhra Pradesh Chief Minister N Chandrababu Naidu Sunday launched a 'Smart Village-Smart Ward Towards Smart Andhra Pradesh' scheme in West Godavari district.Naidu also undertook a 18-km 'padayatra' to raise awareness among the people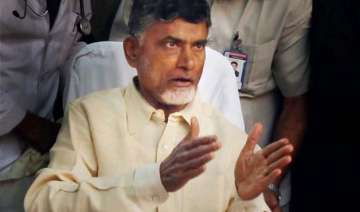 PTI
January 19, 2015 7:46 IST
Eluru (AP): Andhra Pradesh Chief Minister N Chandrababu Naidu Sunday launched a 'Smart Village-Smart Ward Towards Smart Andhra Pradesh' scheme in West Godavari district.
Naidu also undertook a 18-km 'padayatra' to raise awareness among the people after launching the scheme at Velivennu in the district.
The AP state government has set a target of realise 20 development indicators (like education, health and sanitation) to remove inequalities in villages for their comprehensive development, he said.
According to the scheme, villagers would have to formulate a plan for its development, particularly for education, health, drinking water, roads, telecommunication network, skill development and others, by involving corporates, business houses as well as NRIs, among others.  
Earlier, Naidu had asked people who migrated from villages to foreign countries or other places in the country to participate in the development of their native places.  
He said that villagers should come together and work to develop their villages.
"There should be toilets, drainages, good houses for all and nutritious food for all. The population is coming down.  Today, nine lakh people are born annually.
Soon, the number of those dying will increase and if the number of births comes down, you will see aged people like in Japan, where there are more old people.
Even if you produce one or more children, there is no problem…," he said with a smile.  
The launch of the scheme coincided with the 19th death anniversary of Telugu Desam Party (TDP) founder and late Andhra Pradesh Chief Minister N T Rama Rao, to whom Naidu paid tributes at the village.