Army can act on its own during counter-insurgency: Gogoi
Guwahati: Assam Chief Minister Tarun Gogoi today said that the army can act on its own in counter-insurgency operations and the state government does not need to call for its services."In a law and order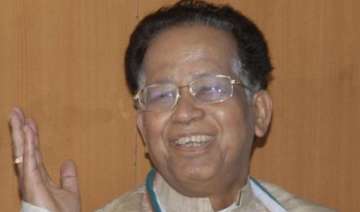 PTI
January 01, 2015 16:55 IST
Guwahati: Assam Chief Minister Tarun Gogoi today said that the army can act on its own in counter-insurgency operations and the state government does not need to call for its services.
"In a law and order situation, they can work only when the government calls them for help but in insurgency conditions, they can act when the situation so demands even if we do not call them," Gogoi told reporters here.  The Chief Minister was reacting to Defence Minister Manohar Parrikar's alleged claim in a section of the media that the state government was late in requesting army deployment in the wake of NDFB(S) attacks on adivasis on December 23 that claimed more than 80 lives.
"They have acted on their own before and I am not blaming them. I need not call them for deployment in insurgency operations but I did get in touch with the army and they came 24 hours later," Gogoi added.
The attacks took place on December 23 followed by retaliatory violence and police firing the next day while the army stepped up operations from December 25. "I am not saying that there was lack of coordination among the security forces but there are certain problems at the ground level which may have delayed them," Gogoi added. Asked about alleged leakage of information to the media about there being intelligence inputs about possible attack by militants in Assam, the Chief Minister said, "If this is not politics, then what is?"
He, however, did not elaborate but pointed out that he was in touch with Union Home Minister Rajnath Singh since the outbreak of violence and there was coordination with the central agencies.
He also refuted Union Sports Minister Sarbananda Sonowal's allegations that the state government was warned of possible militant attack saying, "This was not true".