Army should return to barracks in Kashmir, PDP chief Mehbooba Mufti tells Rajat Sharma in Aap Ki Adalat
New Delhi: Jammu and Kashmir People's Democratic Party president Mehbooba Mufti has said that with the number of terrorists waning in the valley, army should now "redefine its role" and jawans should be sent back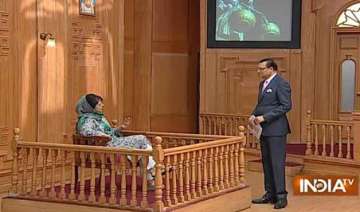 India TV News Desk
April 25, 2015 18:29 IST
New Delhi: Jammu and Kashmir People's Democratic Party president Mehbooba Mufti has said that with the number of terrorists waning in the valley, army should now "redefine its role" and jawans should be sent back to barracks in civilian areas.
Replying to queries from Rajat Sharma in Aap Ki Adalat show to be telecast tonight at 10 pm on India TV, Mehbooba Mufti said, "time has now come to redefine army's role in Kashmir. The army had rebuilt schools and bridges after last year's floods. Now the army should hand over the 'role of the gun' to the police...Our policemen are now better armed, better equipped.  Army jawans in civilian areas should now return to their barracks.
"The army has agreed to vacate Tattoo Ground in Srinagar, where we will build a beautiful park for children.
People will then feel, change has come", Mehbooba said.
The PDP chief hinted at gradual phasing out of Armed Forces Special Powers Act (AFSPA). "All the major parties including Congress, National Conference, PDP, CPI(M) and BJP are in favour of revoking AFSPA and return of land unauthorisedly occupied by security forces".
Asked whether the withdrawal of AFSPA could lead to surge in violence, the PDP chief said: "We will review AFSPA gradually. India's democracy is resilient.  Today, after 20-22 years of militancy, if you say that we can lose Kashmir if AFSPA is withdrawn, then where will it lead us to? Can we keep a state forever under the weight of the army?"
Mehbooba Mufti said: "The number of militants has come down from nearly a lakh during the Nineties to almost 200 now, but that does not mean that we will revoke AFSPA in one go. We will do it gradually. And the separatists will be the one who will oppose it the most, because they know that this is a visible sign for denigrating our army before the world.
"When we will withdraw AFSPA from one area, there will be new challenges, because militants do not want return of normalcy, they may try to carry out 2-3 big incidents. The separatists will be the one who will oppose its withdrawal the most", she added.
"And, even, God forbid, if the situation deteriorates, do we need anybody's permission (to restore AFSPA)?  But only because of fear (of losing Kashmir), we cannot imprison a large population for long. This is mental torture.
Let me tell you, it was the army who saved us during last year's floods. The state government had then failed.
"Even in some places, after the floods, people demanded that monetary help should be distributed through army and not through local officials. They feel that those in the army are honest. We have to treasure this image. But when a big incident like the Tral encounter takes place, it puts the army in a bad light", Mehbooba said.
"I am sitting here (in studio) today only because of the work that the army did during the last 20 years. A political process has now begun. Now the army should be stationed on the border, they should stay in the barracks, and help us in rebuilding work. They can build a bridge in 6 months, whereas our engineers take four years."
The PDP chief hit out at the national media saying it projected the Masrat Alam incident out of proportion.
"There used to be a time during Nineties when thousands of (Pakistani) flags used to be flown from housetops. We fought the separatists, the NC fought, the Congress fought, and today, when four people wave (Pakistani) flags at Masarat Alam and Syed Ali Shah Geelani's rally, you blow it out of proportion. You (news channels) do not speak of those 60 percent voters who showed bravery and came out to vote in the Assembly elections", said Mehbooba.
"For separatists, their biggest weapon is publicity. What else do they need? Four people waving (Pak) flags in a rally of 4,000 get media publicity for four days.... If you think Masarat Alam was so important to show him on TV for four days, what are you telling the world? That the people of Kashmir are not with us?  I personally feel that the majority of people in Kashmir voted in favour of a political process and rejected the gun and violence, but unfortunately you are not giving them a chance."
When Rajat Sharma pointed out that it was the Mufti government which had released Masarat Alam, and not the media, the PDP chief replied: "It was the Supreme Court which had ordered his release in February, and there was no case pending against him. We have to respect the Supreme Court order".
On Masarat Alam shouting pro-Pakistan slogans, she replied: "Please leave that to us. When he crossed the line, we detained him.  But please do not dictate to us what we should do."
When Rajat Sharma pointed out that it was after Home Minister Rajnath Singh's intervention that Masarat Alam was arrested, Mehbooba replied: "Had that been the case, he could have ordered the re-arrest of Masarat Alam when we released him the first time. Mufti saheb (the CM) is not that sort of a man. There should be no doubts. He will take decisions always in the interests of the nation and of Jammu and Kashmir. This 'kursi' (chair) may come and go, it's not a big deal. We will do what we think is the best, so that we can extricate J&K from the current crisis."
Mehbooba Mufti blamed the media for creating a scary situation during the recent protests against Tral encounter.  "Our tourist season had just begun, and the TV channels showed Kashmir is boiling. There were  many cancellations and it hurt our tourist industry. Go to the Valley today and find out, everything is normal, and the shopkeepers are waiting for tourists to come."
The PDP chief sidestepped a question on whether she was going to be inducted as a minister in the NDA government. "I don't know, from where you hear such things. ..Our party has not taken a decision so far. There are two of my senior colleagues in our party, who are very efficient and hardworking. Why me, it could be anybody."
Asked why his party was embarassing the BJP, first by praising Pakistan and Hurriyat Conference, and then releasing separatist Masarat Alam, the PDP chief said: "They (BJP) should not feel defensive.  If you have the confidence, and you believe that this alliance is for the betterment of the state, then you should not (feel embarassed)."
On return of Kashmiri Pandits to the valley, the PDP chief made it clear that they would be rehabilitated not separately, but in "mixed" colonies, so that they can co-exist with Muslims and Sikhs. "Do you want them to became sitting ducks, by making colonies exclusively for them?"
PDP chief Mehbooba Mufti in Rajat Sharma's Aap Ki Adalat will be telecast tonight at 10 pm on India TV. It will be re-telecast on Sunday April 26 at 10 am and 10 pm.