Arrest those involved in Kishtwar riots: Union home ministry
New Delhi, Aug 12: Minister of State for Home Affairs R.P.N. Singh Monday said the Jammu and Kashmir government had been asked to arrest all those involved in Friday's communal violence in Kishtwar town in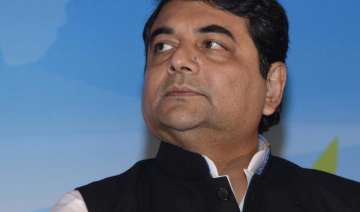 IANS
August 12, 2013 13:19 IST
New Delhi, Aug 12
: Minister of State for Home Affairs R.P.N. Singh Monday said the Jammu and Kashmir government had been asked to arrest all those involved in Friday's communal violence in Kishtwar town in the Jammu region.
"We have asked the state government to arrest all miscreants so that normalcy could be brought back in Jammu and regions adjoining it," R.P.N. Singh told reporters outside parliament.
"We are in constant touch with the Jammu and Kashmir government. We are giving them all support to bring calm in Jammu," he added.
Meanwhile, Parliamentary Affairs Minister Kamal Nath said the Jammu and Kashmir government should explain the circumstances under which Bharatiya Janta Party (BJP) leader Arun Jaitley was blocked from entering Kishtwar Sunday, after having landed at Jammu airport.
"I do not know why he (Jaitley) went there. The fact that it happened (means) Jammu and Kashmir government should... explain circumstances under which it happened," Kamal Nath said.
He added that it was unfortunate that the incident was getting politicised.
"The Jammu and Kashmir government should have taken the decision in the interest of the people and in the interest of peace and harmony there. I would urge political parties not to politicise the issue and work in harmony with the state government, which is working to resolve the matter and see that peace is restored," he told a news channel here.
Communal violence in Kishtwar claimed two lives Friday on Eid-ul-Fitr. Jailtey was Sunday stopped from entering Kishtwar after he landed at Jammu with a BJP team to visit the strife-torn area.