Supreme Court stays proceedings in 2 defamation case against Kejriwal
New Delhi: In a relief to Delhi Chief Minister Arvind Kejriwal, the Supreme Court today stayed the proceedings in 2 defamation cases against AAP supremo.The cases were filed by BJP leader and Union Minister Nitin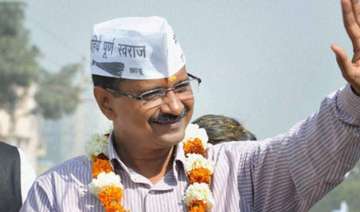 India TV News Desk
April 17, 2015 13:37 IST
New Delhi: In a relief to Delhi Chief Minister Arvind Kejriwal, the Supreme Court today stayed the proceedings in 2 defamation cases against AAP supremo.
The cases were filed by BJP leader and Union Minister Nitin Gadkari in Patiala House Court and Karkardoma Court.
Gadkari had accused Kejriwal of defaming him by including his name in the AAP's list of "India's most corrupt". Last year, the Aam Aadmi Party (AAP) chief had released a list of most corrupt politicians in the country and included Gadkari's name in it.
Kejriwal accused Gadkari of earning money through businesses using his political influence. To this, Gadkari said before Metropolitan Magistrate Gomati Manocha, "It is incorrect to suggest that I am a businessman. In Maharashtra, lots of co-operative initiatives are there and I have been associated with co-operative institutions, charitable trusts and some of the public limited companies of the farmers and they are all social institutions."
The court had suggested both the leaders to bury the hatchet and come to an amicable resolution of the case.
Gadkari had told the court that he was ready to resolve the issue if Kejriwal withdrew his statement. However, Kejriwal refused to do so.
Kejriwal had earlier been sent to jail after he refused to furnish a personal bail bond in the case. He, however, relented on the advice of the Delhi High Court and was released.