Arvind Kejriwal dines with donors for fund raising
Nagpur: Despite his poor health, Aam Aadmi Party (AAP) national convenor Arvind Kejriwal arrived in the city here tonight, to oblige party donors for a dinner with him in a posh hotel in Sadar.Kejriwal who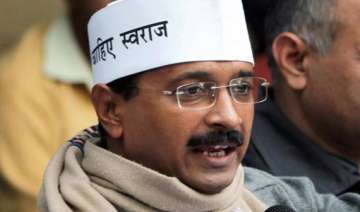 PTI
March 14, 2014 7:16 IST
Nagpur:
Despite his poor health, Aam Aadmi Party (AAP) national convenor Arvind Kejriwal arrived in the city here tonight, to oblige party donors for a dinner with him in a posh hotel in Sadar.
Kejriwal who postponed his arrival due to ill health, arrived by a service flight in the evening and drove to Wadada village on Bhandara road to talk to villagers who have been affected due to untimely rains and hailstorms.  Earlier, AAP had cancelled his Chandrapur tour yesterday morning, because of his poor health.
The party has organised a dinner for those donating more than Rs 10,000 each, as part of a fund raising programme.
He also went to Bhandara where he addressed a public meeting in support of AAP candidate Prashant Mishra, a US-returned infotech professional who is pitted against Nationalist Congress Party (NCP) heavyweight and Union Minister for Heavy Industries Praful Patel.
The AAP leader is scheduled to lead a roadshow in all six assembly constituencies in Nagpur Lok Sabha area tomorrow morning.
He is also expected to address a public meeting at the sprawling Kasturchand Park grounds in Nagpur city.
Permission for the public meeting has been granted, after it was cancelled earlier, AAP's Girish Nandgaonkar said.