Arvind Kejriwal, Kiran Bedi war of words hots up
New Delhi: Arvind Kejriwal today dared BJP's Chief Ministerial candidate Kiran Bedi for a public debate ahead of the February 7 Delhi Assembly polls but the former IPS officer snubbed him dubbing it as "drama"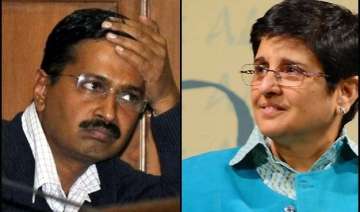 PTI
January 20, 2015 23:38 IST
New Delhi: Arvind Kejriwal today dared BJP's Chief Ministerial candidate Kiran Bedi for a public debate ahead of the February 7 Delhi Assembly polls but the former IPS officer snubbed him dubbing it as "drama" and said she will confront him in the floor of the House.  
Her response prompted AAP to accuse Bedi of being afraid of facing the challenge from Kejriwal who took the electoral fight to East Delhi's Krishna Nagar constituency from where she is contesting.
"It will be a good initiative for democracy if there is a debate between us on different issues. People vote in the name of religion and caste. They are not aware of the issues. The debate of around 1-2 hours should be on concrete issues," Kejriwal said earlier while embarking on his roadshow.  Bedi retorted saying, "They are into drama while I am focused on work."
"I accept the challenge. I will do it in the Assembly and before that I am focusing on delivery rather than on debates because that's what he's been doing. He's only been debating.  What I am doing is delivery of goals, services, programmes," she said.
Kejriwal put off till tomorrow filing of his nomination papers.
As the war of words continued, Kejriwal scoffed at her response, saying people want to know how political parties will deal with pressing issues confronting them before casting their votes, not after the elections.
"People want to know whether BJP will reduce power and water tariff, and how it will bring down prices of essential items, how it will put an end to bribery and corruption" he said.
The former Delhi Chief Minister also took a dig at BJP over the protests at the party's state office saying while AAP is a ray of hope, the fights in BJP show "no sign of abating".  "BJP has won in Maharashtra, Haryana, Jharkhand but the party is choking after coming to Delhi. On one hand AAP is a ray of hope, on the other we get news that workers outside BJP office are fighting over ticket distribution," Kejriwal said.  
An unfazed Kejriwal also reiterated his controversial remarks asking voters to accept money being offered by Congress and BJP on a day he was was slapped with a show cause notice on the issue by the Election Commission.  
"If I would have asked people to accept the money and even to vote for those parties then they would have been very happy. Their problem lie in the fact that I am saying accept money from all the parties but vote for AAP," he said.  Interestingly, Bedi addressed a rally in the area minutes before the AAP chief promising the national capital a good, clean and transparent government if voter to power.
Promising good governance, Bedi said she will ensure that every government officer hits the road by 9 AM daily to review departmental works.
"Every government officer would be on the road by 9 AM to review the work their department is doing and they will give me a monthly report. We will also set up a call centre to address the grievances of the public," she said.  The former cop also said that people of Delhi no longer want a government of "dhamkis" (threats) and "suspensions".  
"Now Delhi wants administration. They no longer want a government of dhamkis and suspensions. A government works with collaboration, team work," she said.  Later in his speech, Kejriwal said Bedi was being caught in a "trap" by BJP and the party will make her a "scapegoat" after its defeat in the polls.
"They will make her a scapegoat after BJP's defeat in the polls and say that she has lost us the polls. Why did she fall into their trap?," Kejriwal said.
He also said while he is working towards providing a better future for Delhi, BJP is only "obsessed" with him.  "BJP has deputed a battery of leaders to target me starting from MPs to Ministers. While I think about Delhi's better future, their only obsession is to defeat me in the elections," he said.