Azam Khan claims PM Modi met Dawood Ibrahim in Pakistan, BJP rubbishes allegation
Ghazipur: Uttar Pradesh minister Azam Khan on Saturday claimed that Prime Minister Narendra Modi had met underworld don Dawood Ibrahim at the residence of his Pakistani counterpart Nawaz Sharif in Lahore in December last year."Prime Minister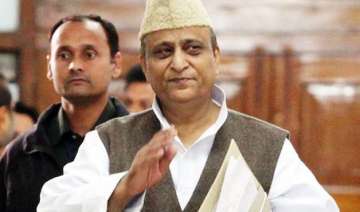 India TV News Desk
February 07, 2016 14:27 IST
Ghazipur: Uttar Pradesh minister Azam Khan on Saturday claimed that Prime Minister Narendra Modi had met underworld don Dawood Ibrahim at the residence of his Pakistani counterpart Nawaz Sharif in Lahore in December last year.
"Prime Minister visited Pakistan by breaking international laws. He also met Dawood there. Let him (Modi) deny. I will give evidence. Who all did he meet behind closed doors?" Khan said.
"If the Prime Minister asks, I can show photographs as proof," Khan added.
The senior leader of the state's ruling Samajwadi Party also claimed that Sharif sent seekh kabab for Modi.
"Our Prime Minister sends pashmina shawl and Malihabadi mangoes for the Pakistani Prime Minister and in return, seekh kabab comes here from Pakistan. I have proof of this also...," he said.
While BJP attacked him, the Congress too said not to pay heed to Khan's remark.
BJP's Sudhanshu Mittal asked Uttar Pradesh Chief Minister Akhilesh Yadav to "immediately" dismiss the minister.  
"If Akhilesh means business, he should immediately dismiss him for disturbing communal harmony and brining shame to the nation. I am shocked," he said.
Congress spokesperson Tom Vadakkan said Khan has been in public life for a long time and he should not have made the statement without substantiating it.
"We may have differences with a lot of personalities but that does not mean we believe in whatever is said," he said adding that Khan is the same person who asked UP policemen to trace his buffalo.
With Agency Inputs