Raj Thackeray, aspiring CM of Maharashtra
New Delhi: Very few people know that Maharashtra Navnirman Sena (MNS) chief Raj Shrikant Thackeray's original name was Swararaj Shrikant Thackeray. And it was the late Bal Thackeray who asked him to change his name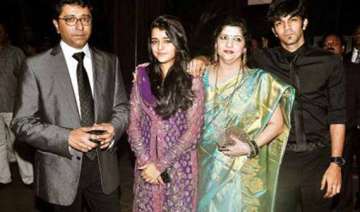 Raj Singh
June 18, 2014 7:10 IST
New Delhi:
Very few people know that Maharashtra Navnirman Sena (MNS) chief Raj Shrikant Thackeray's original name was Swararaj Shrikant Thackeray.
And it was the late Bal Thackeray who asked him to change his name to Raj Thackeray.
Raj Thackeray's father Shrikant Thackeray was a passionate music director. He gave musical names to his wife as well as his children.
He named his wife Madhuwanti, which is a Raag in Hindustani Classical music.
He named his daughter Jayjaywanti which is also a Raag.
And the son was named Swararaj, which means the king of musical notes.
Sharmila Thackeray, Raj Thackeray's wife