Babulal demands impartial probe in Ichagarh Assembly polls
Jamshedpur: Jharkhand Vikas Morcha (Prajatantrik) supremo Babulal Marandi today demanded an impartial probe into the last two Assembly elections in Jharkhand involving former JVM MLA from Ichagarh Arvind Kumar Singh.Referring to the alleged attack on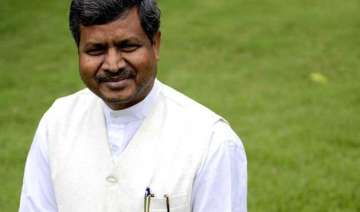 India TV News Desk
January 05, 2015 20:55 IST
Jamshedpur: Jharkhand Vikas Morcha (Prajatantrik) supremo Babulal Marandi today demanded an impartial probe into the last two Assembly elections in Jharkhand involving former JVM MLA from Ichagarh Arvind Kumar Singh.
Referring to the alleged attack on Singh and party supporters on the eve of the December 9 polls in the state last year, Marandi said the attack was a conspiracy to eliminate Singh as the opposition party was convinced they could not defeat him.
"BJP has not only implicated Singh in a false case in connection with the incident, but also his three brothers including one physically challenged, even though they were not present at the spot," Marandi, who visited Singh, currently undergoing treatment at the M G M Hospital here under police custody, told reporters.
"This was not the first time, but a similar incident had taken place during a post-poll victory event in 2009 when four JVM activists were killed while returning home after taking part in Singh's victory celebration," Marandi said demanding an impartial probe in both the cases.  
JVM and BJP activists had clashed hours before the December 9 elections last year in which several persons including Mahato sustained injuries.