Ban on VHP's yatra from Ayodhya unjust: Rajnath
Lucknow: Terming the ban on VHP's yatra from Ayodhya as "unjust", BJP National President Rajnath Singh yesterday said that Uttar Pradesh government should reconsider its decision."Giving security to any religious event of the people, belonging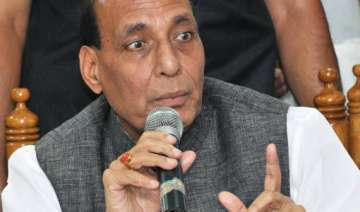 PTI
August 23, 2013 7:53 IST
Lucknow
: Terming the ban on VHP's yatra from Ayodhya as "unjust", BJP National President Rajnath Singh yesterday said that Uttar Pradesh government should reconsider its decision.
"Giving security to any religious event of the people, belonging to any faith and caste is the responsibility of the government. If 100-150 seers decided to undertake parikrama then the government must not have any objection and it should provide security," Rajnath told reporters here.
He was speaking at the release ceremony of the research letter by senior party leader and columnist Hridaynarain Dixit.
Terming the ban on the proposed '84-kosi padyatra' a "challenge" for everyone, the BJP president said that the state government should reconsider its decision.
"If the government apprehend breach of peace from 150 seers, it has adequate force...It should deploy 200 to 400 security personnel and give permission for the parikrama," he said.
Rajnath, who has returned from his eight-day US visit, said that India was known for its special culture across the world and its popularity was increasing, but it was facing security crisis in its own country.