Bengal needs to create environment for growth: Jaitley
Kolkata: In a strong message to West Bengal Chief Minister Mamata Banerjee, Finance Minister Arun Jaitley today said that she has a responsibility to deliver on promises and create an environment to attract investments.  "Madam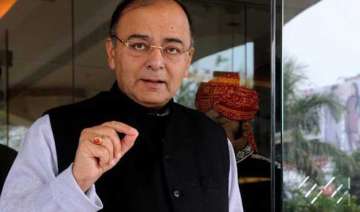 PTI
January 07, 2015 15:46 IST
Kolkata: In a strong message to West Bengal Chief Minister Mamata Banerjee, Finance Minister Arun Jaitley today said that she has a responsibility to deliver on promises and create an environment to attract investments.  
"Madam Chief Minister, you have a mandate to rule the state, and therefore, you have the responsibility to deliver what was promised," Jaitley said, while assuring the state of all possible help for developmental activities.  The Finance Minister was speaking at the West Bengal Global Business Summit.
India should be a strong federation of states, he said, adding, "In all areas where the states want to prosper, we are here to fully support you."
Stressing on the need to attract investment, Jaitley said, "we have to create an environment where we do not merely attract investment but also promise profitable return on that investment...investment will lead to greater investment."
Referring to specific issues concerning West Bengal, the Minister said industries had moved away from the state despite several advantages. "Our challenge is to re-establish West Bengal as an industrial centre once again." One of the greatest challenges, Jaitley said, was to improve the ease of doing business.
"Investor has a choice...he has a choice of which state to invest in; he also has a choice of which country to invest in; and therefore we have to narrow down his choice so that his choice focuses on India as a particular state," he added.  The Minister further said that West Bengal will benefit from coal auction and implementation of the Goods and Services Tax (GST).
"A large part of the money which we are going to get because of the auction of the coal blocks is going to go to the coal producing states and West Bengal is going to be one of the four states which is going to be major benificiary of that," he added.
As regards GST, he said, "I have not the least doubt in my mind that their revenue position is going to be much better, in the first year of the GST implementation."