Bihar awaits special status: Nitish
Patna: Bihar Chief Minister Nitish Kumar Friday said he was eagerly awaiting the central government to accord special category status to the state.A day after Planning Minister Rajeev Shukla told the Rajya Sabha that Bihar's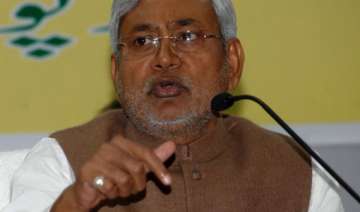 IANS
August 23, 2013 14:44 IST
Patna
: Bihar Chief Minister Nitish Kumar Friday said he was eagerly awaiting the central government to accord special category status to the state.
A day after Planning Minister Rajeev Shukla told the Rajya Sabha that Bihar's request for special status was under consideration, Nitish Kumar said there was nothing new in the minister's statement.
"We are simply waiting for the central government decision to accord special category status to Bihar," he told the media here.
The chief minister has repeatedly declared that Bihar would develop economically rapidly if it was granted special status.
Nitish Kumar said he was confident of a positive development in favour of Bihar on the basis of report of a committee headed by Raghuram Rajan, the finance ministry's economic advisor.
"Now the time is ripe for the central government to take a decision and we are waiting for it."
Nitish Kumar said Bihar had been seeking the category for long and had submitted a memorandum to Prime Minister Manmohan Singh.