Bihar BJP vice-president Visheshwar Ojha shot dead, second BJP leader killed in a day
Ara: The vice president of the Bharatiya Janata Party's Bihar unit Visheshwar Ojha was today shot dead by unidentified assailants in Bhojpur district while returning from a wedding.Ojha is the second BJP leader of the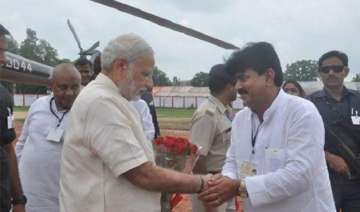 India TV News Desk
February 12, 2016 21:08 IST
Ara: The vice president of the Bharatiya Janata Party's Bihar unit Visheshwar Ojha was today shot dead by unidentified assailants in Bhojpur district while returning from a wedding.
Ojha is the second BJP leader of the state to be killed within a day's time. Earlier in the morning, another BJP leader Kedarnath Singh was shot dead in Chhapra.
Ojha, who had unsuccessfully contested Assembly election in 2015 from Shahpur constituency, was fired by gunmen when he was returning after attending the 'baraat' at Parsaura village.
The incident took place between Sonvarsha and Parsaura village under Shahpur police station of Bhojpur.
Ojha's driver and another person accompanying him were also seriously injured in the firing.
Ojha was taken to Shahpur referral hospital where he died during treatment, the hospital's in-charge Dr Ajay Kumar said, adding a medical board comprising three doctors had been formed to treat him.
The injured are being treated at Sadar hospital and doctors have declared them out of danger.
Meanwhile, BJP's state unit leaders have condemned the killing of its senior party functionaries. Terming Ojha's killing as a 'heinous crime', former deputy chief minister Sushil Modi said Nitish Kumar has lost his will power to run the affairs of the state.
"The chief minister is only attending meetings to control law and order but criminals are out of control," Modi said.
Another senior BJP leader Giriraj Singh also condemned Nitish Kumar for what he called as targetted political murders. "For how long will Nitish Kumar remain like Dhritarashtra?" he said condemning the chief minister of turning a blind eye to the killings.
"There are serial political killings happenijng in Bihar. Do people who opposed him or did not vote for Nitish Kumar have no right to stay in Bihar? I will appeal in my personal capacity to the Governor to submit a report on the law and order situation in the state to the Centre. Nitish's resolve is to kill and abduct," he said.
(With PTI inputs)