Bihar CM insensitive, says BJP
Patna, Jul 17: The Bharatiya Janata Party (BJP) today termed Bihar Chief Minister Nitish Kumar "insensitive" as the toll of children who ate a mid-day meal at a state-run primary school in Bihar's Saran district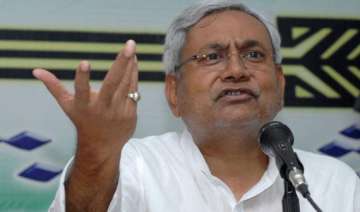 IANS
July 17, 2013 12:37 IST
Patna, Jul 17:
The Bharatiya Janata Party (BJP) today termed Bihar Chief Minister Nitish Kumar "insensitive" as the toll of children who ate a mid-day meal at a state-run primary school in Bihar's Saran district rose to 21.
"Instead of showing promptness in evacuating the children to a better medical facility, the chief minister of Bihar has announced an ex-gratia amount of Rs.2 lakh for kin of children who died after having a mid-day meal. This shows his insensitivity and callous attitude," said Rajiv Pratap Rudy, spokesperson of the party that shared power with the ruling Janata Dal-United for 17 years.
"Most of the children died as treatment was not up to the mark. Better medical facility and right treatment could have saved many children," he told a TV news channel here.
Ten of the 27 children admitted to a hospital remain critical.
Hundreds of people have been protesting in Saran since late Tuesday night, demanding strict action against government officials responsible for the tragedy.