Bihar minister apologizes for remarks over soldiers
Patna, Aug 8: Hardly an hour after he said that people join the army to become martyrs, Bihar's Rural Works Minister Bhim Singh Wednesday apologized after Chief Minister Nitish Kumar took him to task.A senior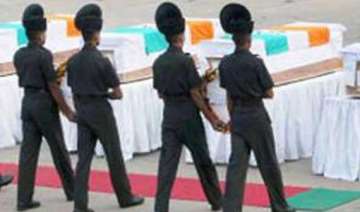 IANS
August 08, 2013 19:02 IST
Patna, Aug 8:
Hardly an hour after he said that people join the army to become martyrs, Bihar's Rural Works Minister Bhim Singh Wednesday apologized after Chief Minister Nitish Kumar took him to task.
A senior Janata Dal-United leader, Bhim Singh is known for making remarks that have led to controversies in the past too.
He told the media: "Shahadat key liye toh fauj mey jaatey hain." (People join the army to become martyrs.)
Bhim Singh said this when he was asked why no Bihar minister failed to recieve the bodies of the four soldiers from the state killed by Pakistani troops in Kashmir.
Once Bhim Singh made the remark, the opposition was furious and demanded action against the minister.
According to JD-U sources, Nitish Kumar expressed his unhappiness over Bhim Singh's statement.
"He forced Bhim Singh to publicly apologise for it," a party leader told IANS.
The bodies of four of the five soldiers killed in Kashmir were cremated Thursday with full state honours at their respective villages in Saran, Bhojpur and Patna districts, a police official said.
Family members, relatives and thousands of people as well as leaders of political parties witnessed the last rites.
All four were from 21 Bihar Regiment.
Nitish Kumar announced a compensation of Rs.10 lakh each to the families of the slain soldiers.