Bihar quake toll 58, 100 brought back from Pokhara: Nitish
Patna: The toll in the earthquake in Bihar has risen to 58 and around 100 people stranded at Pokhara in Nepal have been brought back safely to Raxaul on the India-Nepal border, Chief Minister Nitish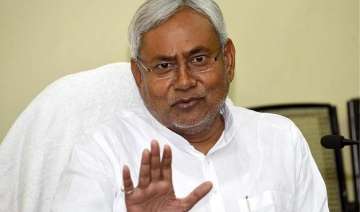 PTI
April 28, 2015 17:07 IST
Patna: The toll in the earthquake in Bihar has risen to 58 and around 100 people stranded at Pokhara in Nepal have been brought back safely to Raxaul on the India-Nepal border, Chief Minister Nitish Kumar said today before leaving for Raxaul.
Kumar said arrangements are in place in relief camps at Raxaul in East Champaran district, which is witnessing maximum flow of people returning to the country from quake-devastated Nepal.
Adequate arrangements of blankets, linen, food packets, water and medicines have been made at relief camps in Raxual and elsewhere for those returning from Nepal.
He said senior state minister Vijay Chaudhary has been appointed as minister in-charge and the secretary to social justice department Arvind Chaudhary has been made secretary in-charge to oversee relief operation at Raxual.
"After transporting 100 persons from Pokhara it seems there are no Indians left there," he said adding 32 Bihar government buses have been sent to Kathmandu to bring back people stranded in the Nepal capital.
The buses sent by Bihar government would not only carry back people from the state stranded in Nepal but also those of other states and even foreigners.
The chief minister appealed to citizens of Bihar to come forward to help the earthquake victims in Nepal.
Kumar said he had to leave for Raxaul by road instead of chopper due to inclement weather there as well as here.