BJD MP threatens samadhi for anybody trying to demolish Biju Patnaik memorial in Puri
Bhubaneswar: Maverick Biju Janata Dal (BJD) MP from Bhubaneswar Prasanna Patsani has made a controversial remark over a Puri civil judge's order directing officials to demolish the samadhi of former Odisha CM Biju Patnaik build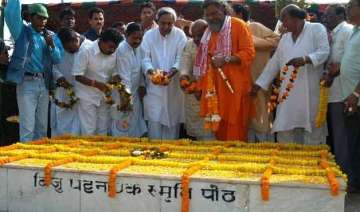 India TV News Desk
January 05, 2015 20:37 IST
Bhubaneswar: Maverick Biju Janata Dal (BJD) MP from Bhubaneswar Prasanna Patsani has made a controversial remark over a Puri civil judge's order directing officials to demolish the samadhi of former Odisha CM Biju Patnaik build illegally at the famous Swarga Dwar crematorium.
Patsani said: "Anybody trying to demolish Biju Samadhi will himself be interred inside a samadhi".
The BJD MP, a self-styled baba sporting saffron robes, said," Biju Patnaik was a national leader. Some people from Odisha are trying to pull the great leader's leg by calling for demolition of his samadhi, that is why Odiyas never prosper.
"This samadhi was erected during J B Patnaik (then Congress CM) rule. Don't worry, anybody trying to demolish Biju Samadhi will himself be interred in a samadhi", Patsani said.
Another BJD leader Puri MLA Maheswar Mohanty has said, the court's order will be challenged in higher court.
Former Odisha chief minister and senior Congress leader J B Patnaik clarified that his government never gave permission to the BJD to erect Biju Patnaik's samadhi at Swarga Dwar.
Patnaik said: "Personally I feel, samadhis should not be erected at crematoriums. Such a step was highly improper." BJP state president Kanav Vardhan Singhdeo said, it would have been better if Biju Patnaik's samadhi was constructed away from Swarga Dwar crematorium. "Such a dispute would not have arisen today".
Odisha chief minister Naveen Patnaik and his team of 10 spokespersons have maintained a studied silence on this issue.
Meanwhile, at the Swarga Dwar crematorium, an outfit called Swarga Dwar Suraksha Manch on Sunday staged a protest, followed by a counter protest on behalf of Lok Dal.
Police had to intervene to prevent a scuffle between supporters of both outfits.
On Dec 27, a civil court in Puri  ordered the demolition of the samadhi of Biju Patnaik within three months. In her order, Sreemoyee Acharya, civil judge, junior division, Puri, said, the Swarga Dwar crematorium was a place for Hindus who cremate the bodies of their beloved ones, and it was illegal for anyone to construct a memorial at the crematorium.
No other construction except one that is required in public interest be allowed at the crematorium, the court ordered the state government and the Puri Municipal Corporation.
Biju Patnaik passed away on April 17, 1997, and was cremated at the famous Swarga Dwar crematorium in Puri.