Delhi polls: BJP's chief ministerial candidate face missing from posters
New Delhi: BJP chief Amit Shah may have announced Kiran Bedi as party's chief ministerial candidate and may have sketched out the biggest plan for Delhi polls but it seems that party is still shying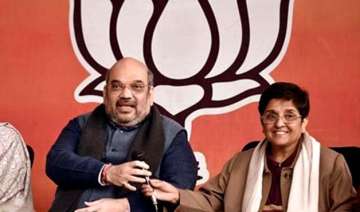 India TV News Desk
January 31, 2015 8:17 IST
New Delhi: BJP chief Amit Shah may have announced Kiran Bedi as party's chief ministerial candidate and may have sketched out the biggest plan for Delhi polls but it seems that party is still shying away from embracing her whole heartedly.
With seven days to go for polling, BJP's chief ministerial candidate Kiran Bedi is missing from posters and some election speeches as the party changes the pitch of its campaign in Delhi.  
The party devoid of any posters or banners sporting Bedi's pictures and continues to sport Prime Minister Narendra Modi's posters. The posters also feature Shah and the local party candidates but there is no sign of Bedi.
Kiran Bedi who has joined BJP few days back and was declared as CM candidate for Delhi, has been vigorously campaigning for elections by road shows. Though party's main focus is still attacking on rival Arvind Kejriwal, Kiran missing from posters have surely raised many questions.
Amit Shah's rally in Janakpuri had no mention of Bedi. Even Union minister Smriti Irani addressed another rally and she too did not mention Ms Bedi.
When asked about if party is roasting the popularity of PM Modi in Delhi polls, veteran Delhi leader Jagdish Mukhi shot back, "What is wrong with invoking Narendra Modi's name?"
"Modi is a capable leader and the people know that which is important," Mr Mukhi said.
Interestingly, Bedi is expected to make a "late appearance" in the BJP's official campaign posters that would be re-launched soon.