BJP demands action against state Delhi Environment minister
New Delhi: Wondering if Delhi Chief Minister Arvind Kejriwal was defending his colleagues embroiled in controversies, the BJP today demanded action against state Environment minister Asim Ahmad Khan, who it alleged of patronising killers of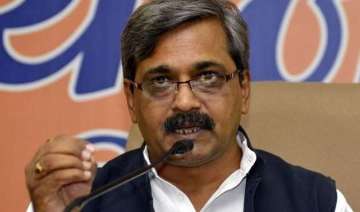 PTI
April 07, 2015 22:38 IST
New Delhi: Wondering if Delhi Chief Minister Arvind Kejriwal was defending his colleagues embroiled in controversies, the BJP today demanded action against state Environment minister Asim Ahmad Khan, who it alleged of patronising killers of Shahnawaz, who was beaten to death in a road rage incident two days ago.
"The AAP should take immediate action against Khan who is reported to be patronising the killers of the common man. It is really shocking that before elections Kejriwal would go to every corner of the city with crocodile tears to gather sympathy on hearing any public commotion.
"But after such a heinous crime at Turkman Gate both, the AAP and its government are silent. It seems the silence is to protect interest of Khan's supporters involved in the murder," Delhi BJP chief Satish Upadhyay and party's legislature unit head in the assembly Vijender Gupta, said in a joint statement.
Citing examples of controversies surrounding AAP men including another Minister Jitender Singh Tomar, the duo said Kejriwal's silence in all such matters shows the philosophy "dual political standards" which he wants opponent parties to follow and but not by his own party men.
Delhi Law Minister Tomar has been alleged of giving wrong declaration of his educational qualification while filing nomination in the run up to Assembly polls held in February this year.
"The silence of Kejriwal in all such matters shows the philosophy of political standards he preaches for opponent parties to follow and not for his own party members," the statement said.
Shahnawaz was allegedly beaten to death in front of his two minor children by a group of men after his motorcycle grazed their car in Central Delhi's Turkman Gate on Sunday night.