BJP gets a boost in Tamil Nadu with PMK, DMDK joining for tie-up
Chennai: BJP in Tamil Nadu got a boost today with two of its prospective allies DMDK and PMK declaring that they will enter into negotiations with the saffron party on a day of swift political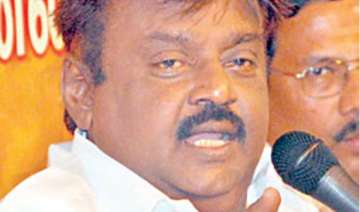 PTI
March 07, 2014 17:43 IST
Chennai:
BJP in Tamil Nadu got a boost today with two of its prospective allies DMDK and PMK declaring that they will enter into negotiations with the saffron party on a day of swift political developments that saw the two Left parties announce snapping of ties with AIADMK over seat-sharing row.
DMDK announced it will forge an alliance for the coming elections and started parleys with BJP.
"DMDK has decided to contest the elections in alliance and has begun talks with BJP," a brief party release said.
Though DMDK did not elaborate on the number of seats it would bargain with BJP and other electoral issues, state BJP unit president Pon Radhakrishnan said "we are happy DMDK has come out in the open about the talks it is holding with BJP."
PMK, a party claiming to represent backward Vanniyar community, authorised its founder S Ramadoss to decide on alliance and in pursuant to that he announced a panel headed by party president G K Mani to hold seat-sharing talks with BJP and the two will meet soon.