BJP Has Not Left Ram Mandir, But Stressing On Economic Issues
Kolkata, Dec 01: The BJP has not left issues like Ram Mandir, but the new generation in the party was laying more stress on economic issues and good governance, its President Nitin Gadkari has said."BJP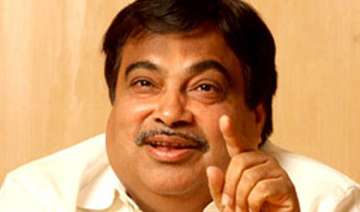 PTI
December 01, 2011 18:40 IST
Kolkata, Dec 01: The BJP has not left issues like Ram Mandir, but the new generation in the party was laying more stress on economic issues and good governance, its President Nitin Gadkari has said.

"BJP has not left issues like Ram Mandir, but is giving more stress on economic issues. I am from a new generation and it is natural that economic issues will receive emphasis, as also GDP, politics of development, progress, besides nationalism and good governance," Gadkari said during an informal interaction with the media here last night. 

Replying to questions, Gadkari said "unfortunately the BJP has been given a tag of being communal which we are trying to remove."

About the prime ministerial candidate of his party, the BJP chief said it was an issue created by the media. 

"There are many leaders in the party to become PM. When election comes, the candidate will be finalised."

Asked if the BJP was ready for mid-term Lok Sabha elections, Gadkari said "We are ready."
Stating that his party hoped to get another chance to rule the country, he said "we hope to get over 170 seats in the Lok Sabha. Once we cross 170 seats, we will have more allies and we will not remain communal and untouchables any more.

"And, we expect to secure even 200 seats in the 2014 parliamentary elections."

To a question, he said with the Left parties having been decimated in the last elections, the main contest would be between Congress-led UPA and the BJP-led NDA in 2014 Lok Sabha polls.
The BJP would also fare well in the February, 2012 elections in UP, he said.

Slamming the UPA government, Gadkari said "it has been plagued by various scams, like CWG, 2G and financial scandals, and failed to deliver as it is neck deep in corruption.
 
"Price rise is unchecked, food inflation has crossed a staggering 12 per cent and the government appears helpless pursuing its wrong economic policy," he claimed. 

"Wrong fiscal policy and bad and corrupt governance have eaten into the system under UPA rule," he said, alleging that there was no employment potential and per capita income had slumped.

"On the count of credibility, leadership and honesty, the UPA has lost its position," he said.  Gadkari was critical of Trinamool Congress chief Mamata Banerjee's 'silence' over the UPA government's 'corruption', and said "while she is very vocal against the CPI(M) and against anything wrong, surprisingly she keeps silent on the corrupt UPA of which she is a major ally. 

"Crime and abetement to crime are equally punishable offences and Mamataji is no exception," he said of the party's former ally.

On Anna Hazare's crusade against corruption, he said "if Anna receives support, it is welcome. We have no regret for this. I don't know what Congress thinks over it."

Speaking about the performance of BJP-ruled states, he said that Gujarat was a role model, while good work was reported from Uttarakhand, Madhya Pradesh, Chhatishgarh and Karnataka.
Gadkari said that BJP was also doing well in the governments in Bihar and Punjab.