BJP indulging in politics over special package to Bihar: Nitish
Patna: Chief Minister Nitish Kumar, who met Prime Minister Narendra Modi and demanded special status for Bihar besides central assistance, today accused BJP of indulging in politics over special package to the state with the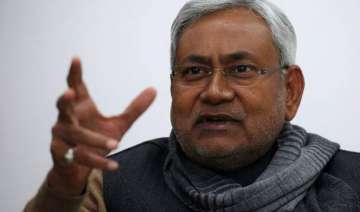 PTI
April 07, 2015 21:21 IST
Patna: Chief Minister Nitish Kumar, who met Prime Minister Narendra Modi and demanded special status for Bihar besides central assistance, today accused BJP of indulging in politics over special package to the state with the coming Assembly election in view.
"Its not a package but a smart effort of BJP in packaging," Kumar told reporters reacting on reports of Union Finance Minister Arun Jaitley holding a discussion to formulate special package for Bihar.  "The briefing of the meeting held by Jaitley yesterday was done from the point of view of election," he said.
Jaitley in his Budget speech had proposed giving similar special assistance to Bihar as has been provided by the Government of India in the case of Andhra Pradesh.
Petroleum Minister Dharmendra Pradhan, Agriculture Minister Radha Mohan Singh, HRD Minister Smriti Irani, Power Minister Piyush Goyal and former Bihar Deputy Chief Minister Sushil Kumar Modi were among those who attended the meeting.
Principal Secretary to the Prime Minister, Nripendra Mishra also attended the meeting.
Sushil Modi had said yesterday that the Union Finance Minister would consider suggestions given by different departments and after consulting Prime Minister Narendra Modi, will decide the kind of help that can be given to Bihar.
Kumar said during his meeting with the Prime Minister on March 26, he had given a detailed memorandum to the Prime Minister recently listing needs of the state in view of loss accruing due to recommendations of 14th Finance Commission.
He said he had told the PM that BRGF (Backward Regional Grant Fund) under which Bihar got Rs 12,000 crore in the last fiscal was under threat of closure after 14th Finance Commission recommendations.
"This amount cannot be closed as it is part of State Reorganisation Act that guided division of Jharkhand from Bihar in 2000," he said.  Kumar alleged BJP of trying to package old sanctioned schemes for Bihar in the name of special package.
Citing media reports on it, Kumar said it talked about ultra mega power project. "The then power minister Sushil Kumar Shinde had given in principle approval to it. Efforts are on to identify land and water for the project."
Likewise, construction of a new bridge parallel to Mokamah bridge was talked about four years ago. There is talk of starting Barauni fertiliser factory, an old scheme.
"Projects which had been halted are being identified for implementation in the name of special package," Kumar said and repeated his demand for special category status for Bihar to spur its growth.