BJP leader Om Mathur appreciates 'Ghar Wapsi' programme
Jaipur: Appreciating Vishva Hindu Parishad (VHP)'s 'Ghar Wapsi' programme, senior BJP leader Om Mathur on Tuesday said there was nothing wrong if a person converts by his own wish."Forceful conversion is wrong hence a stringent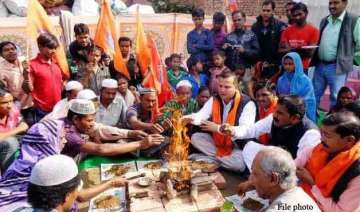 PTI
January 07, 2015 7:14 IST
Jaipur: Appreciating Vishva Hindu Parishad (VHP)'s 'Ghar Wapsi' programme, senior BJP leader Om Mathur on Tuesday said there was nothing wrong if a person converts by his own wish.
"Forceful conversion is wrong hence a stringent law to check such conversion is needed. As far as Ghar Wapsi is concerned, there is democracy in the country and if someone willingly adopts a religion then no one has a right to question it," Mathur told reporters.
He said that no one should point finger if one willingly converts to a religion.
The party's state president Ashok Parnami and other leaders also met with Mathur at his residence in Jaipur.
'Ghar Wapsi' programme is a series of re-conversion exercises organised by VHP to re-convert non-Hindus to Hinduism. It has now become the subject of public discussion.