BJP's national executive meet begins, Congress workers protest outside venue
Bengaluru: The two-day meet of Bhartiya Janata Party's national executive committee began in Bengaluru this morning.The meet is being attended by BJP President Amit Shah, Prime Minister Narendra Modi, Arun Jaitley and other top leaders of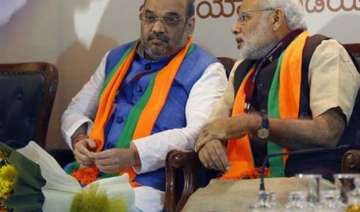 India TV News Desk
April 03, 2015 15:36 IST
Bengaluru: The two-day meet of Bhartiya Janata Party's national executive committee began in Bengaluru this morning.
The meet is being attended by BJP President Amit Shah, Prime Minister Narendra Modi, Arun Jaitley and other top leaders of the party.
The party is all set to brainstorm over the strategy to be used for geeting the land bill passed in parliament.
The ruling party is expected to use power point presentations and booklets to attack its political opponents who are opposing land bill by terming it 'anti-farmer'.
The party considers land bill crucial for its infrastructure projects as it will make land purchases easier for industrial corridors roads, ports and power stations.
Interestingly, Congress workers protested outside the venue of BJP's National Executive meeting over black money issue.
They were holding bogus cheques of Rs 15 lakhs – the amount that Modi had promised to every Indian as share of recovered black money.
Police has detained many protesting Congress workers.
Congress also took exception to the fact that the BJP was holding this meet in five-star hotel.
"You can imagine what could be the agenda for poor of the nation of people who hold their National Executive in a five-star hotel", said Congress leader BK Hariprasad. 
Earlier, BJP general secretary P Muralidhar Rao said the party would brainstorm over the issue and will also come out with a nationwide outreach to publicise the good works of the government when it completes one year in power next month.
"There will be a discussion over the Land Bill. The opposition has spread various myths and propaganda about it. We will go to people against it. Industrialisation is necessary and we do not see any conflict between the industry and agriculture. We are making farmers a stake-holder and their interest would not be compromised," he told reporters.
BJP leadership, he noted, had already made it clear that it was willing to talk to opposition parties and farmers and consider bringing changes in the bill.
"We want to talk with an open mind," he said.
Rao said over 15 lakh members would undergo a training programme and they will play an important role in reaching out to public about the good work being done by the government.
The question that whether senior leader L K Advani will address the delegates or not continues to loom large as Rao said he would be present throughout the two-day meet being attended by over 111 national executive members besides a host of special invitees, including chief ministers of party-run states and its state presidents.
"He has come here and will be present throughout. He is always there to guide us," he said, evading a direct reply.
Advani's valedictory address has been a customary fixture in the national executive meetings barring the one in Goa in 2013 which he had skipped in apparent protest against the elevation of Modi as the party's campaign committee head ahead of the Lok Sabha elections in 2014.
The veteran leader has been eased out of the party's key decision-making bodies by the Modi-Shah combine and made a member of largely ceremonial 'margdarshak mandal'.