BJP NE meet: Party to hold nationwide rallies seeking support for land bill
Bengaluru: The Bhartiya Janata Party will be holding rallies across the country seeking support for the controversial land acquisition bill that has got stuck in parliament as the party does not have required support in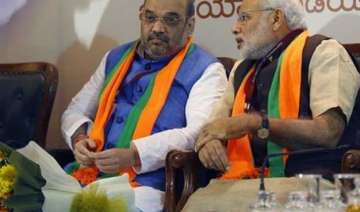 PTI
April 03, 2015 16:27 IST
Bengaluru: The Bhartiya Janata Party will be holding rallies across the country seeking support for the controversial land acquisition bill that has got stuck in parliament as the party does not have required support in the upper house.
The party took this decision at its National Executive meet that began today in Bengaluru.
Union minister Nitin Gadkari will launch the series of rallies from Ranchi on May 6.
Also Read: Stop finding faults with BJP; find your leader, Amit Shah to Congress
The National Executive meet  is focusing on the strategy to get the land acquisition bill passed in the parliament.
Speaking at the meet, party President Amit Shah asked Congress to find out the whereabouts of Rahul Gandhi instead of trying to find out shortcomings in the BJP.
READ ALSO: BJP's national executive meet begins, Congress workers protest outside venue
Shah praised the Modi government for giving a "corruption-free govt" for 10 months.He added that the economy is looking up and initiatives like e-auction have been successful.
Amit Shah sounded so confident of the performance of BJP-led government that he predicted that Modi govt will remain in power for next 10-20 years.
Another Union minister Prakash Javadekar termed the BJP as 'a friend of farmers'
"It's a party of farmers, led by farmers. We worked for farmers and shall continue to do so," said Javadekar.
Javadekar also upbeat over BJP becoming world's largest political party  and said that the National Executive is meeting for the first after the party achieved this feat.
The National Executive meet is being attended by BJP President Amit Shah, Prime Minister Narendra Modi, Arun Jaitley and other top leaders of the party.
Earlier, BJP general secretary P Muralidhar Rao said the party would brainstorm over the issue and will also come out with a nationwide outreach to publicise the good works of the government when it completes one year in power next month.
"There will be a discussion over the Land Bill. The opposition has spread various myths and propaganda about it. We will go to people against it. Industrialisation is necessary and we do not see any conflict between the industry and agriculture. We are making farmers a stake-holder and their interest would not be compromised," he told reporters.
BJP leadership, he noted, had already made it clear that it was willing to talk to opposition parties and farmers and consider bringing changes in the bill.
"We want to talk with an open mind," he said.
Rao said over 15 lakh members would undergo a training programme and they will play an important role in reaching out to public about the good work being done by the government.
The question that whether senior leader L K Advani will address the delegates or not continues to loom large as Rao said he would be present throughout the two-day meet being attended by over 111 national executive members besides a host of special invitees, including chief ministers of party-run states and its state presidents.
"He has come here and will be present throughout. He is always there to guide us," he said, evading a direct reply.
Advani's valedictory address has been a customary fixture in the national executive meetings barring the one in Goa in 2013 which he had skipped in apparent protest against the elevation of Modi as the party's campaign committee head ahead of the Lok Sabha elections in 2014.
The veteran leader has been eased out of the party's key decision-making bodies by the Modi-Shah combine and made a member of largely ceremonial 'margdarshak mandal'.