BJP refuses merger of BSR Congress, but fields its leader from Bellary
New Delhi: After public opposition by senior leader Sushma Swaraj, BJP today decided against merging BSR Congress with it even as the nomination of the party leader B Sreeramalu for the Bellary Lok Sabha seat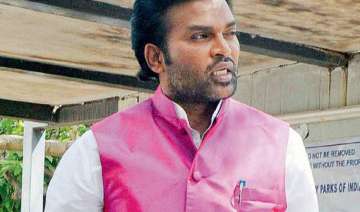 PTI
March 13, 2014 15:58 IST
New Delhi:
After public opposition by senior leader Sushma Swaraj, BJP today decided against merging BSR Congress with it even as the nomination of the party leader B Sreeramalu for the Bellary Lok Sabha seat was approved.
The BJP Parliamentary Board discussed the issue at length and disfavoured the merger of BSR Congress, sources said.
Sreeramulu is a close confidante of the Reddy brothers who had to quit BJP after their arrest in the mining scam.
At the same time, BJP decided to field Sreeramulu from Bellary in Karnataka.
BJP's Karnataka unit president Prahlad Joshi said the "Parliamentary Board has decided to field Sreeramulu to contest from the Bellary Lok Sabha seat on a BJP ticket."