BJP shifts to positive election campaign after anti-Kejriwal ads
New Delhi: After launching a direct attack on Arvind Kejriwal and Aam Aadmi Party by a campaign advertisement published in newspapers yesterday, top BJP leaders are reportedly upset with this move and asked to focus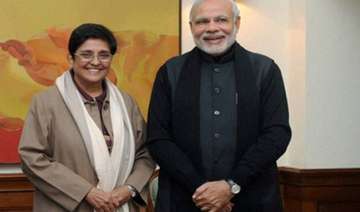 India TV News Desk
January 31, 2015 14:57 IST
New Delhi: After launching a direct attack on Arvind Kejriwal and Aam Aadmi Party by a campaign advertisement published in newspapers yesterday, top BJP leaders are reportedly upset with this move and asked to focus on positive campaigning.
The advertisement mocked Kejriwal and AAP for taking the support of the Congress to form government after the last election in December, 2013.
Sources revealed that the party's top officials are unhappy and sent out clear instructions to its workers to focus just on positive campaigning rather than negativism. The instructions were sent out after senior BJP leader Arun Jaitley and Union minister Dharmendra Pradhan, who is among the central ministers assigned to micromanage Delhi elections, changed the tone of party's ad campaign.
At the review meeting on Friday, the two leaders approved the party's new campaign ad which has been published in Saturday's leading newspapers. It has photos of Prime Minister Narendra Modi and BJP's chief ministerial candidate Kiran Bedi and focuses on development and good governance.
Speaking to a leading news channel, Jaitely issued caution for the party workers. He said, "If AAP is born out of politics of negativism then BJP should not do the same. We have a lot of positives. The BJP should only do positive campaigning is my advice to the party."
AAP in return took a swipe at BJP for its newspaper advertisement in which Anna Hazare's cartoon was shown with a garland with Kejriwal wondering whether the saffron party had "killed" off the veteran anti-corruption crusader and asked for an immediate apology.
"Nathuram Godse killed Gandhiji on this day in 1948. BJP has killed Anna in its ad today. Shudn't BJP apologise?" Arvind Kejriwal said in the tweet yesterday.
In the last election, Anna Hazare, who had been openly disapproving of Mr Kejriwal's entry into politics, had banned AAP from using his name or images in their campaign.
Delhi votes for a new government on February 7. The results will be declared on February 10.