BJP hits out at Shiv Sena for demanding revocation of voting rights of Muslims
New Delhi: Bharatiya Janata Party (BJP) today lashed out at its key ally Shiv Sena for demanding the withdrawal of voting rights from the Muslim community.Party spokesperson Shahnawaz Hussain said that participation in an electoral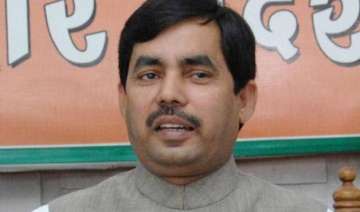 India TV News Desk
April 13, 2015 14:53 IST
New Delhi: Bharatiya Janata Party (BJP) today lashed out at its key ally Shiv Sena for demanding the withdrawal of voting rights from the Muslim community.
Party spokesperson Shahnawaz Hussain said that participation in an electoral process is a constitutional right and it has nothing to do with any religion or caste.
"The Constitution of India has granted voting rights to people of all faiths, whether Hindu, Muslim, Sikh or Christian. The BJP believes in 'sabka saath, sabka vikas'. No one can deprive anyone from casting votes. Muslims in India consider the country their motherland," he said.
Yesterday, Shiv Sena MP Sanjay Raut had accused AIMIM leaders Asaduddin and Akbaruddin Owaisi of polarising the community and demanded revocation of voting rights of Muslims to stop vote bank politics.
Union Minister and senior BJP leader Mukhtar Abbas Naqvi, while not making any direct reference to Sena's comment, tweeted, "India is not a jungle of Talibani thinking. Its a garden of human values, fundamental principles. Polluted air of hatred can't affect it."
Stressing all citizens had equal rights, BJP leader Siddharth Nath Singh said Raut's suggestion was "out of question". Such remarks should not be made, he said.
Raut's view drew sharp reactions from opponent parties. Congress said the ruling alliance has members who are out to create conflict. The Aam Aadmi Party (AAP) demanded arrest of Raut and de-recognition of Shiv Sena. 
"If Muslims are only being used this way to play politics, then they can never develop. Muslims will have no future till they are used to play vote bank politics and thus Balasaheb had demanded that the voting rights of Muslims should be taken away. What he said is right," Raut wrote.
Senior Congress leader Mani Shankar Aiyar accused the Sena of trying to divide the nation. 
He said: "India has second largest population of Muslims in the world and in couple of decades we will have highest number of Muslims in the world. We should be proud of it. Shiv Sena is trying to divide the nation, they want to break it into pieces."
The NCP condemned Sena's demand saying snatching away the fundamental right is a threat to the nation's democracy.
"To snatch away the right of voting from the Muslims is a threat to the democracy. If voting rights of the special sections are snatched away, it only indicates that they want to end the democracy and bring in the Hitler rule and the people will not accept it," he said.