BJP stages walkout in HP assembly
Shimla: The opposition BJP yesterday staged a walkout in the Himachal Pradesh assembly expressing dissatisfaction over Chief Minister Virbhadra Singh's reply to a discussion on law and order situation in the state.   The walkout came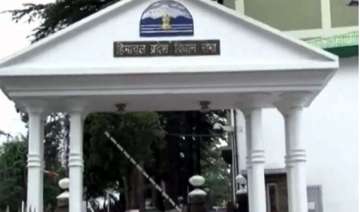 PTI
August 27, 2013 7:17 IST
Shimla
: The opposition BJP yesterday staged a walkout in the Himachal Pradesh assembly expressing dissatisfaction over Chief Minister Virbhadra Singh's reply to a discussion on law and order situation in the state.  
The walkout came when the Chief Minister launched a frontal attack on the previous BJP government alleging it had instituted false cases against him.   
Rebutting the allegations of BJP members that the law and order had deteriorated in the state, Virbhadra said the situation had improved after his government took over reins of the state.   
The BJP members got provoked when the Chief Minister alleged the previous BJP government had registered the false CD case against him.        
Chanting slogans, they insisted the BJP government had no role in registration of the CD case against him.        
They said the probe into the case was initiated after former minister Vijay Singh Mankotia released the CD when Virbhadra was the Chief Minister.   
Attacking the previous BJP government, the Chief Minister said "the Goonda Raj prevailing in the state has come to an end" after the installation of the Congress government.        
He said investigations into all cases of corruption would be speeded up and there would be no dilution of policy of zero tolerance towards graft.