BJP suspends Raghavji, FIR filed, sex victim refuses to undergo medical tests
Bhopal, July 7 ; The BJP today suspended former state finace minister Raghavji from the party membership, even as Bhopal police interrogated the servant who had lodged a complaint against him alleging sodomy. The decision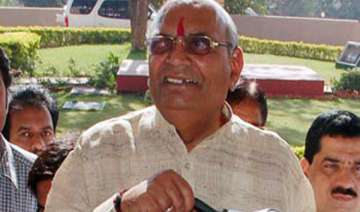 India TV News Desk
July 07, 2013 20:28 IST
Bhopal, July 7 ;
The BJP today suspended former state finace minister Raghavji from the party membership, even as Bhopal police interrogated the servant who had lodged a complaint against him alleging sodomy.
The decision to suspend Raghavji was announced today by state BJP president Narendra Singh Tomar
The victim told Metro Habibganj police today  how he underwent sexual exploitation by Raghavji and his associates over the last several months.
Police later filed an FIR against the BJP stalwart hailing from Vidisha district.
Meanwhile, the victim has refused to undergo medical tests, when police officials asked him whether he was ready to offer himself for medical examination.
Police recorded the entire statement given by the victim relating to the sting CD that he had submitted two days ago.
In another twist to the case, the victim's father from Vidisha has alleged that his son has been forcibly kept by some interested parties to gain political mileage.
Two of Raghavji's associates, Sher Singh Chauhan and Suresh Singh Chauhan have been named accused alongwith the former minister in the FIR.
The accused have been named in the FIR under Sec 377 (sodomy), Sec 506 (threat to kill) and Sec 34 IPC (crime by two or more persons).
The 26-year-old servant (name withheld) has done his BA. He told mediapersons at the official residence of Ajay Singh, leader of opposition in MP assembly, that he had come to Raghavji seeking a job. 
Raghavji got him a job at a distillery company, and assigned him the work to massage his limbs at night, the sex victim said.
He added that Raghavji promised him to get a job in commercial tax department or get him selected through MP public service commission and began to exploit him sexually. When he tried to flee, Raghavji threatened to eliminate him and his family, he alleged.
The leader of opposition Ajay Singh is providing him protection at his official residence C-19, while the sex CD was filmed at Raghavji's official bungalow at B-19.