BJP takes jibe at Amarinder over his proposed Jan 22 rally
Chandigarh: Taking a jibe at senior Congress leader Amarinder Singh, BJP today said his announcement of organising a rally on January 22 in Amritsar will allow people to have a chance to "at least see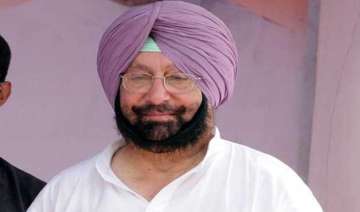 PTI
January 13, 2015 18:01 IST
Chandigarh: Taking a jibe at senior Congress leader Amarinder Singh, BJP today said his announcement of organising a rally on January 22 in Amritsar will allow people to have a chance to "at least see their MP".  
"Before holding a rally on January 22, Amarinder needs to tell people of Amritsar how many days he has spent in the constituency and what issues he has raised for the development of Amritsar since he won the (Lok Sabha) elections," BJP national secretary Tarun Chugh said in a statement.  
"Otherwise, it (Amarinder's rally) is a welcome step as citizens of Amritsar could at least be able to see the MP they chose for the welfare of the constituency. ...He must come to Amritsar, even if it is for some hours and just for a rally as people of Amritsar are really missing him," he said.  
The Congress Deputy Leader in the Lok Sabha had announced on Sunday that a campaign would be launched from Amritsar on January 22 to take on the ruling Akali-BJP alliance in the state, including on the drug issue.
However, BJP President Amit Shah's programme to launch his party's campaign against drugs from Amritsar on January 22 was postponed in view of the announcement of Delhi elections.  
On BJP's announcement to postpone Shah's programme, Amarinder had yesterday said, "BJP has cancelled its (Shah's) rally and ran away... Once bitten twice shy." Chugh described Amarinder's statement as "ridiculous" and said that the outcome result of Delhi Assembly polls will be a "perfect answer" to the remarks.
"Sadly, the so-called seasoned leader is talking like a political novice and is issuing childish statements on the subject. People with a slight knowledge of politics understand that elections of Delhi are far more important than a single programme and the BJP has not cancelled the programme but only postponed the same," Chugh said.
BJP also accused Amarinder of being in the habit of missing Vidhan Sabha and party programmes and defying his party high-command.
"He has shown this during the Winter Session of Parliament when he despite being the deputy leader of Congress in Lok Sabha remained absent throughout," he said.