BJP to focus on Uttarakhand govt's handling of calamity in polls
Dehradun: Opposition BJP in Uttarakhand will make Bahuguna government's alleged slipshod handling of the situation arising out of the June calamity in the state its main poll plank in the 2014 Lok Sabha elections.A political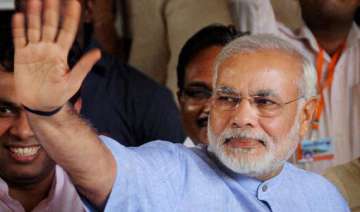 PTI
August 26, 2013 14:14 IST
Dehradun
: Opposition BJP in Uttarakhand will make Bahuguna government's alleged slipshod handling of the situation arising out of the June calamity in the state its main poll plank in the 2014 Lok Sabha elections.
A political resolution to this effect was passed by the party at a meeting of the executive committee of its state unit concluded at Ramnagar in Nainital district yesterday.
"The state government's failure in the face of one of the worst natural calamities to hit the state in recent years will be the party's main political weapon to fight next year's polls," a senior party leader said.
The two day meeting, which focused on evolving a strategy to be adopted by the party in the 2014 general elections, also decided to make the most of Gujarat Chief Minister Narendra Modi's popularity in the Lok Sabha polls, he said.
The party decided to launch a door-to-door campaign in the rural areas of the state to apprise people of the state government's failure to deal with the situation that arose after the June disaster in the state, he said.
Addressing the concluding session, BJP MP Radha Mohan Singh, who is in charge of the party's affairs in Uttarakhand, claimed that Modi's steadily rising popularity is all set to take on the form of a wave which will blow away the Congress in 2014 elections.
He asked party workers to remain united and connect with people at the grassroots to make the most of this opportunity and storm to power at the Centre. 
Former Uttarakhand chief minister and Rajya Sabha member Bhagat Singh Koshiyari asked party workers to iron out their differences and put up a united fight to achieve the larger objective of grabbing power at the Centre.
Former CM Ramesh Pokhariyal Nishank said party workers will have to go to people and create awareness among them about the significant achievements made by BJP governments in different states in a bid to win their confidence.
"The country will not forgive the BJP if it fails this time to translate the nationwide enthusiasm generated by Modi into votes for the party," BJP Rajya Sabha member Tarun Vijay said.
Party workers were also asked to mobilise public opinion against corruption, price rise and the dismal overall economic scenario of the country under UPA.