BJP wants FIR against Dikshit, ministers in transport 'scam'
New Delhi: The Bharatiya Janata Party's (BJP) Delhi unit Monday demanded that Chief Minister Sheila Dikshit and three of her cabinet ministers step down for the Rs.1,000 crore transport "scam" and an FIR be lodged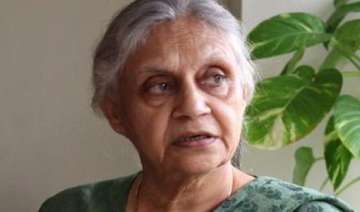 IANS
August 27, 2013 6:52 IST
New Delhi
: The Bharatiya Janata Party's (BJP) Delhi unit Monday demanded that Chief Minister Sheila Dikshit and three of her cabinet ministers step down for the Rs.1,000 crore transport "scam" and an FIR be lodged against them.
"FIRs should be registered against Chief Minister Sheila Dikshit, Transport Minister Ramakant Goswami, Urban Development Minister Arvinder Singh Lovely and Food and Civil Supplies Minister Haroon Yusuf for their dubious role in the 'commercial vehicles' fitness scam," said Delhi BJP chief Vijay Goel.
The party also demanded that Lt. Governor Najeeb Jung should immediately sack them if they do not step down.
It also said the cases related to this scam should be transferred to the Central Bureau of Investigation or a Special Investigation Team should be constituted to probe the scam and bring the guilty to the book.
"The implications of this scam on common people are terrifying. Lakhs of commercial vehicles are running on roads of Delhi without proper fitness tests due to this scam putting at risk lakhs of lives every day," said Goel.
"Now the chief minister, her cabinet colleagues and some senior officials are trying to derail the investigation. There is evidence on record which shows how the high and the mighty in Congress have resorted to influence peddling to hush up this huge scam," he alleged.