Coal scam: BJP welcomes 'questioning' of Manmohan Singh, seeks speedy probe
New Delhi: BJP today welcomed examination of former Prime Minister Manmohan Singh by CBI in connection with the coal block allocation case and demanded that political beneficiaries of the scam also be questioned expeditiously to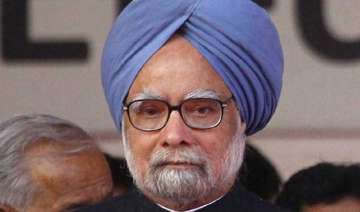 PTI
January 21, 2015 18:20 IST
New Delhi: BJP today welcomed examination of former Prime Minister Manmohan Singh by CBI in connection with the coal block allocation case and demanded that political beneficiaries of the scam also be questioned expeditiously to restore public confidence in the country's governance system.  
BJP also attacked the erstwhile Congress-led UPA regime for "shielding" the political leadership, including the former Prime Minister, and hoped the investigating agency under the supervision of Supreme Court would complete its investigation expeditiously and objectively covering all the beneficiaries.
"BJP welcomes CBI's questioning of former Prime Minister Manmohan Singh who also held the coal portfolio when most of the irregularities in coal scam took place. CBI has examined the former Prime Minister on the advice of the CBI Special Court judge...," BJP spokesperson G V L Narsimha Rao said "We seek a comprehensive, unbiased and expeditious investigation... BJP expects a comprehensive enquiry covering all the actors' ­ private, public and political - involved in perpetrating the scam to unravel the entire criminal conspiracy behind the humongous scam," he said.
He said a scam of such a dimension could not have taken place only between a few companies against whom prosecutions have been started, but pointed to the political beneficiaries who were part of the scam who have gone scot-free so far and hoped the CBI would initiate investigations against them too.
"The massive coal scam could not have been scripted without strong political nexus between Congress leadership and allottees. There is circumstantial evidence in public domain to show the linkages between the allottees and the leadership of the ruling party at the time," he said.
The CBI has so far registered around 36 FIRs in the coal scam and most accused are promoters of private companies and a few public officials.
Rao said the investigation into the scam was delayed and the apex court had expressed its displeasure to CBI on some occasions as during the UPA tenure, "every effort was made to stall investigations, and shield Prime Minister Manmohan Singh and its political leadership who were the prime movers of the coal scam".