BJP won't benefit by naming Modi as PM: Pawar
New Delhi, Aug 4: As a coalition government is "inevitable", the BJP won't get support if it projects Gujarat Chief Minister Narendra Modi as its prime ministerial candidate, NCP chief Sharad Pawar says."If coalition government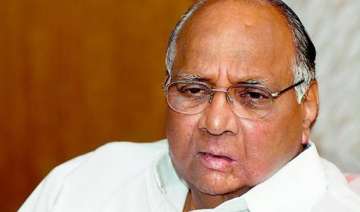 IANS
August 04, 2013 16:55 IST
New Delhi, Aug 4
: As a coalition government is "inevitable", the BJP won't get support if it projects Gujarat Chief Minister Narendra Modi as its prime ministerial candidate, NCP chief Sharad Pawar says.
"If coalition government is inevitable, there has to be a person and leadership which is acceptable to other parties," Pawar told CNN-IBN when asked about Modi's prime ministerial potential.
"And from that angle, it is difficult to say if BJP will get that kind of support from various cross sections," he said.
"In coalition politics very few partners, political parties will support BJP this time with this leadership. Take the case of Nitish Kumar - for a few years he was the partner but he has gone away," Pawar added.
The Janata Dal-United snapped its 17-year-long alliance with the Bharatiya Janata Party (BJP) in June over Modi.
"...In my assessment, very few parties will ultimately go with BJP."
Pawar, the agriculture minister in the Congress-led United Progressive Alliance (UPA) government, emphasised that people now want coalition rather than a single party government.
"Once upon a time Congress was ruling this country for years together. Single party is (a) losing concept. People of India have not accepted (it) now. They want ... coalition. They want political parties to work together on minimum agreed programme and provide stability," he said.
He said he was not in the prime ministerial race and may not contest the Lok Sabha election this time.
"I may not contest a direct election because I contested 14 elections. This is my 46th year in parliamentary and state legislature without (a) single day's gap. So enough.
"That is why I (have) decided not to contest. But I might come in Rajya Sabha. Nothing wrong with that.
"But expecting the highest position without enough numbers has no meaning. I am a realistic politician," he said.