61 bombs found in Trinamool Congress leader's abandoned house
Burdwan (WB): Police today seized 61 crude bombs from an abandoned house of a local Trinamool Congress leader in Raina area of Burdwan district.Superintendent of Police Kunal Agarwal said the police raided the abandoned house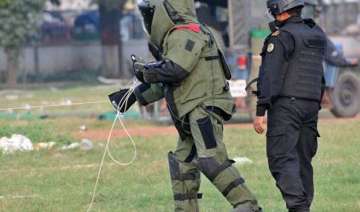 PTI
April 13, 2015 21:48 IST
Burdwan (WB): Police today seized 61 crude bombs from an abandoned house of a local Trinamool Congress leader in Raina area of Burdwan district.
Superintendent of Police Kunal Agarwal said the police raided the abandoned house at Samaspur village on a tip off and found the bombs there.
No one was arrested in this connection.
Sheikh Shanto, TMC working president of Raina-I block, owns the two-storied house where none lives now.
Shanto claimed a group of people "close to the police" had demanded a large sum of money from him a few days ago.
They had threatened him that he would have to pay the price as he did not pay them money, the TMC leader alleged and added the incident could be linked to that threat.