Bowled over by grace and dignity shown by Sidhu, says Jaitley
New Delhi: A day after BJP handed him his maiden Lok Sabha ticket from Amritsar, a seat held by Navjot Singh Sidhu, senior party leader Arun Jaitley today sought to placate the cricketer-turned-politician saying he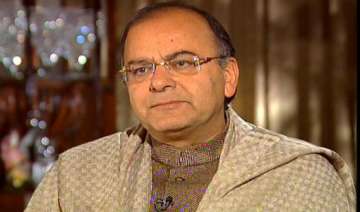 PTI
March 17, 2014 11:17 IST
New Delhi:
A day after BJP handed him his maiden Lok Sabha ticket from Amritsar, a seat held by Navjot Singh Sidhu, senior party leader Arun Jaitley today sought to placate the cricketer-turned-politician saying he was "bowled over" by grace and dignity shown by him.  
Sidhu had yesterday said that while he was ready to make "sacrifice" for his 'guru' Jaitley, he would not contest from anywhere else than Amritsar.
"I must express my gratitude and thanks to my friend Navjot Singh Sidhu for helping me to make up my mind...  
"His grace and dignity reflected the behaviour which is a lesson for many of us in politics.
In cricket he was an established batsman. This time he has bowled me over," he said while lauding Sidhu's role who has represented the holy city till now.