BSY And Me Are Neighbours, Not Enemies, Says Rosaiah
Beleaguered Karnataka Chief Minister B S Yeddyurappa on saturday found an unusual sympathiser in his Andhra Pradesh counterpart K Rosaiah, who said they may be in different parties but are not enemies. Rosaiah, while addressing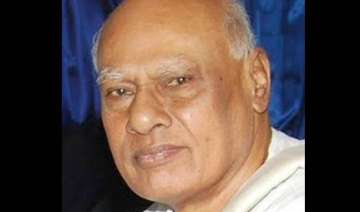 PTI
November 07, 2009 22:28 IST
Beleaguered Karnataka Chief Minister B S Yeddyurappa on saturday found an unusual sympathiser in his Andhra Pradesh counterpart K Rosaiah, who said they may be in different parties but are not enemies.
Rosaiah, while addressing a press conference on his maiden visit to Delhi, recalled how Yeddyurappa had helped Andhra Pradesh during the situation caused by floods. 
He said during the floods, he rang up his Karnataka counterpart and asked him to lessen the release of water from the dams in his state and within half an hour, he got back informing that necessary instructions have been issued. 
The release of water was reduced from one lakh cusecs to 25 thousand cusecs, he recalled. 
"We are neighbours. He belongs to BJP and I to Congress. That does not mean we are each other's enemies," he remarked. 
Rosaiah feigned ignorance over reports that certain people in Andhra Pradesh were fuelling dissidence in Karnataka BJP. "How can I respond to rumours," he said. 
On the Reddy brothers, who are at loggerheads with Yeddyurappa, Rosaiah said they hail from Andhra Pradesh but have now settled in Karanatka and of late joined politics.
"They have got certain problems. I do not want to go into them. They will sort out their problems. Allow them to sort it out," he said. PTI