Buddhadeb To Skip CPI(M) Party Congress For First Time
Kolkata, Apr 3 : For the first time, former West Bengal Chief Minister Buddhadeb Bhattacharjee has decided to skip the CPI(M) party congress beginning at Kozhikode tomorrow, amid speculation that he wanted to be relieved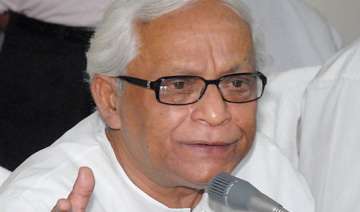 India TV News Desk
April 03, 2012 15:49 IST
Kolkata, Apr 3 :
For the first time, former West Bengal Chief Minister Buddhadeb Bhattacharjee has decided to skip the CPI(M) party congress beginning at Kozhikode tomorrow, amid speculation that he wanted to be relieved of his membership in the central committee and politburo.  
Buddhadeb Bhattacharjee has communicated his inability to attend the party congress to CPI(M) general secretary Prakash Karat, party sources told PTI here.
Bhattacharjee was personally requested by Karat to attend the party congress, they said.
Speculation is rife in party circles that 68-year-old Bhattacharjee wished to quit membership of the central committee and politburo in his letter to Karat, but there was no confirmation.
Bhattacharjee has been consistently avoiding vital meetings of the party since CPI(M)'s drubbing in the Assembly elections in West Bengal and Kerala. 
He has been suffering from chronic obstructive pulmonary disease (COPD) for the last few years, the sources said.  
The former chief minister, however, attended both the central committee and politburo meeting held here last January.
Two other politburo members, Biman Bose and Nirupam Sen besides other central committee members from the state have already left for Kozhikode to attend the 20th party congress. 
Bhattacharjee was earlier scheduled to accompany them.  The veteran leader attends the party office at Alimuddin Street and at times speaks at party rallies in the districts.