Can change lives with people, Mamatadi's support: Moon Moon Sen
Kolkata: Film actress Moon Moon Sen says she would be able to change people's lives in a small way if they support her in the Lok Sabha polls.Nominated for the Bankura seat by the Trinamool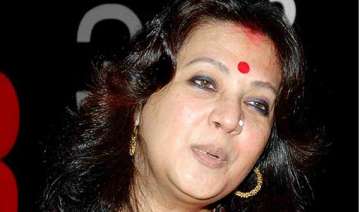 IANS
April 03, 2014 12:08 IST
Kolkata: Film actress Moon Moon Sen says she would be able to change people's lives in a small way if they support her in the Lok Sabha polls.
Nominated for the Bankura seat by the Trinamool Congress, the former Bollywood heroine said Wednesday that in her new role she would be able to share the "joys, pains and sufferings" of the common people "more intimately".
"Well. Actually I have done lot of films and jatras (folk theatres) in that part (Bankura) of the state. I have travelled a lot. I used to break into songs when I saw the red soil of the region," she said, reacting to her nomination.
"People have clapped, appreciated my performances. But it's true that it is a new life. I will ger to know more intimately about people's joy's, sorrows, pains.
If people are with me, I hope to do my lot in my small way to change their lives," said Sen, daughter of legendary Bengali cine actress Suchitra Sen.