Can't clean up corruption like in movies: Parrikar
Panaji: Cleaning up corruption like Anil Kapoor did in the 2001 Bollywood film 'Nayak' is impossible, Goa Chief Minister Manohar Parrikar said Friday in an interview to a magazine revived by the Goa government.In his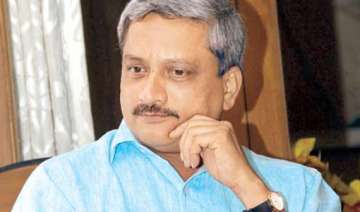 IANS
August 17, 2013 11:57 IST
Panaji:
Cleaning up corruption like Anil Kapoor did in the 2001 Bollywood film 'Nayak' is impossible, Goa Chief Minister Manohar Parrikar said Friday in an interview to a magazine revived by the Goa government.
In his interview to the first edition of the 'Nava Parva' -- an official magazine revived by the Ministry of Information and Publicity, Parrikar said corruption in the state had been curbed considerably.
"People expect the corrupt to be arrested, but that cannot happen the way it was shown in the Hindi movie 'Nayak'. There are procedures to be followed," Parrikar said.
"Nayak" is self-admittedly Parrikar's favourite film. In the movie, a series of events land the protagonist Anil Kapoor the job of chief minister for a day, which he dedicates to cleaning up corruption in the state.
Parrikar also said corruption had slowed down considerably, but he would need more time to nip it thoroughly.
"All and sundry will agree that corruption has reduced as those asking for bribes are now scared of stringent action from the administration," Parrikar told the magazine.
"As on date, around 40 major cases of corruption have been handed over either to the Lokayukta or the Vigilance Department of the Anti-Corruption Bureau," Parrikar added, and said systemic procedures take time when it comes to acting against the corrupt.
"You have to also understand that I have to work with a system that has been systematically dismantled and corrupted by the previous government," he said, adding that he believes in zero-tolerance to corruption.