Centre to help Andhra Pradesh in industrialisation push
Anantapur(AP): The NDA Government will help Andhra Pradesh in catering to its development needs and efforts in industrialisation, Union Finance Minister Arun Jaitely said today."Hon'ble Chief Minister (N Chandrababu Naidu) has made a strong case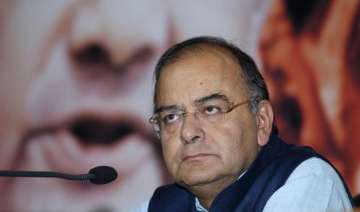 PTI
April 11, 2015 23:34 IST
Anantapur(AP): The NDA Government will help Andhra Pradesh in catering to its development needs and efforts in industrialisation, Union Finance Minister Arun Jaitely said today.
"Hon'ble Chief Minister (N Chandrababu Naidu) has made a strong case for industrialisation of this area because of its proximity to the Bengaluru airport. Already, some incentives have been announced.  "We are in discussion with the State Government.
Therefore, to industrialise this particular State and this region and bring water to this region, we are absolutely committed. On this occasion, when we are starting by bringing the first national institution to your district," he said.
Union Minister was speaking in Anantapur district where the foundation stone for National Academy of Customs, Excise and Narcotics (NACEN) was laid. Union Parliamentary Affairs Minister M Venkaiah Naidu and Chief Minister Naidu were present on the occasion.
Observing that the NDA Government is implementing the various promises made to Andhra Pradesh during its bifurcation last year, Venkaiah said foundation has been laid for several national-level institutions in the State and funds released for development schemes and projects.
Noting that the Centre has already announced tax incentives for promoting industrialisation, he said he has urged the Finance Minister to enhance the help to Andhra.Venkaiah said setting up a defence-related institution in Kurnool or Chittoor district is under consideration.
Taking exception to the Congress' criticism of the NDA Government on its 11-month rule, Venkaiah sought to know from the main Opposition party what it did when it was in power for 50 years.
Dismissing comments by some Opposition parties that the popularity of Prime Minister Narendra Modi has come down, he said the NDA Government has put the country back on the path of economic recovery and progress.
Thanking Jaitely for "bailing him out" by releasing funds to cash-strapped AP at the "last moment" of the financial year (as per the AP Reorganisation Act), the Chief Minister said the Centre needs to do more for Andhra in terms of funds and industrial incentives, among others.
The people of perennially drought-hit Anantapur district are poor, but they have faith in the ruling TDP-BJP combine for development of the region, Naidu said.