China Trying To Browbeat India: BJP
Claiming that China was trying to browbeat India and encircle it through Pakistan and Myanmar, BJP on Saturday asked the UPA government to be vigilant and prepared to safeguard its frontiers. 'China is trying to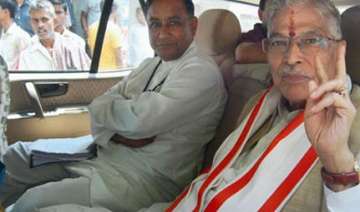 PTI
November 14, 2009 21:30 IST
Claiming that China was trying to browbeat India and encircle it through Pakistan and Myanmar, BJP on Saturday asked the UPA government to be vigilant and prepared to safeguard its frontiers.
'China is trying to encircle India through Pakistan and the Arabian sea from one side and Bay of Bengal via Myanmar from another," BJP stalwart and former union minister Murli Manohar Joshi told reporters in Bhubaneswar.
Accusing the Congress-led UPA government of failing to pursue a proper foreign policy, he said India must remain vigilant and fully prepared to safeguard its frontiers with China eyeing Arunachal Pradesh and other areas.
 Asking the Centre to learn from the 1962 experience, Joshi said China had always been working against India in collusion with Pakistan.
While China provided nuclear technology and uranium to Pakistan in a clandestine manner, the US pumped in finance and weapons, he said.
Warning that Pakistan's nuclear weapons could find their way into the hands of Taliban, the BJP leader said India should expose the 'dual policies' of China and the US, which were responsible for proliferation of nuclear weapons.
"The most dangerous part of the story is that they allowed rogue nations like Pakistan to possess nuclear weapons," he said, adding that India should realise that both China and US posed grave threat. PTI