Choppy monsoon session likely for Maharashtra assembly
Mumbai, July 14: With the countdown to the next general elections already underway, the monsoon session of the Maharashtra assembly starting here Monday is expected to be a choppy affair.While the Opposition parties led by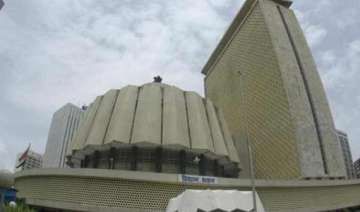 IANS
July 14, 2013 12:53 IST
Mumbai, July 14
: With the countdown to the next general elections already underway, the monsoon session of the Maharashtra assembly starting here Monday is expected to be a choppy affair.
While the Opposition parties led by the saffron combine of Bharatiya Janata Party-Shiv Sena-Republican Party of India is expected to be hyper-aggressive, the ruling Congress-Nationalist Congress Party alliance would attempt to present itself as more populist in a bid to retain hold over the masses.
The ongoing monsoon has brought both relief and worry for the state government in equal measure.
With the recent deluge in Uttarakhand where the Maharashtra government's performance was considered exemplary in terms of rescuing the stranded people from the state, on the flip side at least four people were killed and more than 150 are still missing.
In contrast, the timely onset of monsoon uniformly all over the state has provided a relief and will serve to blunt the Opposition's ire over the sufferings of the people in many parts who experienced the worst-ever water scarcity situation in the past four decades.
Though both the Congress and Nationalist Congress Party have claimed credit for the drought relief, the Opposition is likely to tear into the state government on the plight of farmers who were hit twice -- first by drought and now by heavy rains.
On the infamous irrigation department scam, the state government went back on its word of completing the investigations within six months and granted a six-month extension to the Madhav Chitale Committee, ensuring that the report will be delayed.
This and the recent strong observations against the state government for washing its hands of the investigations against Water Resources Minister Sunil Tatkare, the ongoing allegations against Deputy Chief Minister Ajit Pawar, PWD Minister Chhagan Bhujbal and other scams shall be raised vociferously by the Opposition.
The issue of law and order and safety of women in the city and the state is likely to figure in a big way in the wake of the blatant attack on a nurse from New Delhi, Preeti Rathi, at Bandra Terminus May 2. She died of her injuries June 1.
Besides this sensational case, there have been other crimes and atrocities against women, including last week's dowry death in Gondia district of eastern Maharashtra.
The problem of illegal constructions has been plaguing different urban centres of the state, especially the Mumbai-Thane belt, mainly with support from local officials and politicians.
In April, the state witnessed its worst-ever building crash killing 75 near Mumbra town of Thane, followed by another four major building crashes in Thane and Mumbai.
The issue is likely to figure in a big way in the legislature especially since the monsoon is underway with a potential for more such tragedies.