Chouhan dons skull cap as he greets Muslims on Eid
Bhopal, Aug 9: Madhya Pradesh Chief Minister Shivraj Singh Chouhan today sported a skull cap while greeting the Muslims on the occasion of Eid-ul-Fitr.State Congress unit president Kantilal Bhuria and former Union Minister Suresh Pachouri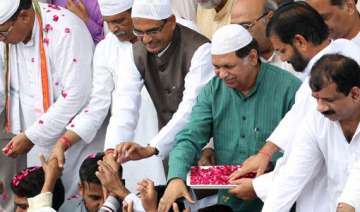 PTI
August 09, 2013 14:58 IST
Bhopal, Aug 9
: Madhya Pradesh Chief Minister Shivraj Singh Chouhan today sported a skull cap while greeting the Muslims on the occasion of Eid-ul-Fitr.
State Congress unit president Kantilal Bhuria and former Union Minister Suresh Pachouri also wore skull caps while sharing the dais with Chouhan at the Idgah here.
This is not the first time that Chouhan donned a skull cap as he had worn it on earlier occasions also.
Film actor Raza Murad, who was present at the Idgah, appreciated Chouhan's gesture of putting on a skull cap.
"I do not think much importance should be given to sporting a skull cap as wearing it does not mean anything much," the actor said.
However, the actor quipped, "It was time that Gujarat Chief Minister Narendra Modi learn some things from Chouhan and does not show his aversion to skull caps."