CMs' meet to speed up road links in Maoist-hit states
New Delhi: Union Road Transport, Highways and Shipping Minister Nitin Gadkari has convened a chief ministers' conference of eight states haunted by Left-wing extremism to resolve bottlenecks in speedy implementation of road projects being executed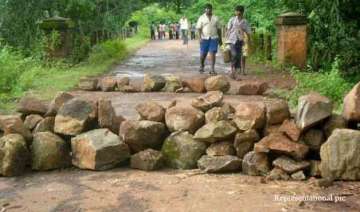 IANS
January 11, 2015 13:07 IST
New Delhi: Union Road Transport, Highways and Shipping Minister Nitin Gadkari has convened a chief ministers' conference of eight states haunted by Left-wing extremism to resolve bottlenecks in speedy implementation of road projects being executed in remote areas of these states.
The conference, to be held in Raipur, Chhattisgarh, on Jan 13, is expected to be attended by chief ministers of Chhattisgarh, Jharkhand and Bihar and public works department (PWD) ministers of other states. Senior officials of the union government from the road transport and home ministries will also attend.
The ministry of road transport and highways had taken up improvement of road connectivity in the 34 such "affected districts" covering a total length of 5,477 km, covering eight states of Telangana, Bihar, Chhattisgarh, Jharkhand, Madhya Pradesh, Maharashtra, Odisha and Uttar Pradesh under road requirement plan.
Of the 5,469 km length sanctioned, project works for 4,908 km length were awarded. As on date, work on 3,299 km length (67 percent) has been completed at an expenditure of Rs.4,374 crore under this scheme, an announcement by the ministry said.