Cong Playing Dirty Politics On Babri Issue, Alleges BJP
Accusing the Congress of playing "dirty politics", the BJP on Monday demanded suspension of Question Hour in both Houses of Parliament and a debate on the "selective leaks" on Liberhan Commission report on Babri Masjid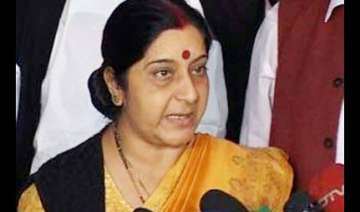 PTI
November 23, 2009 15:22 IST
Accusing the Congress of playing "dirty politics", the BJP on Monday demanded suspension of Question Hour in both Houses of Parliament and a debate on the "selective leaks" on Liberhan Commission report on Babri Masjid demolition. 
Leader of Opposition L K Advani submitted a notice to Lok Sabha Speaker Meira Kumar while Leader of Opposition in Rajya Sabha Arun Jaitley gave a notice to Chairman Hamid Ansari in this regard, senior party leader Sushma Swaraj said. 
"We demand the suspension of Question Hour in both Houses and a debate on the selective leaks on Liberhan Commission report. We have been demanding that since the report has been submitted, it should be tabled in Parliament at the earliest," Swaraj told reporters here. 
The move comes against the backdrop of a media report claiming that former prime minister A B Vajpayee, Advani and BJP leader Murli Manohar Joshi were indicted by the Liberhan Commission which probed the Babri Masjid demolition on December 6, 1992. 
Party spokesperson Prakash Javadekar alleged that the ruling Congress was playing "dirty politics". 
"The government is duty-bound to table the full report along with the Action Taken Report in Lok Sabha. But instead of doing it, the government is resorting to politics of selective leaks," he alleged. 
"The politics is very clear. On the eve of every election, Congress resorts to such tactics. In Jharkhand, they are unable to answer a public query on who promoted Madhu Koda and what is the Congress share in the Koda loot," Javadekar said. 
"To divert attention from all such issues, government has resorted to such dirty politics," he said.
Senior BJP leader M Venkaiah Naidu asked, "How can the government deny the fact that the leak has not come from the Home Ministry? The newspaper report clearly mentions 'Home Ministry sources' and goes on to quote them.
"We believe this is a government conspiracy as it has been under pressure of the opposition on various issues -- like the sugarcane issue," the former BJP president said.
He also referred to the money laundering scam allegedly involving former Jharkhand Chief Minister Madhu Koda, whose government was being supported by Congress, and said that party wanted to avoid discussing the scandal in Parliament ahead of the assembly polls is the state.
Koda, he alleged, was only an agent in the scam while Congress was the mastermind.
Anupam Gupta, who was a counsel in the Justice Liberhan Commission from 1999 to 2007, said he cannot "bring himself to believe that Justice Liberhan has indicted Vajpayee" and felt that it was an attempt to "shift focus from the central and overarching role of Advani."
"To the best of my knowledge there is no evidence against Vajpayee with regard to the demolition or even on the Ayodhya movement whose principal protagonist was Advani. Vajpayee was never summoned by the Commission nor examined by us," Gupta said. PTI